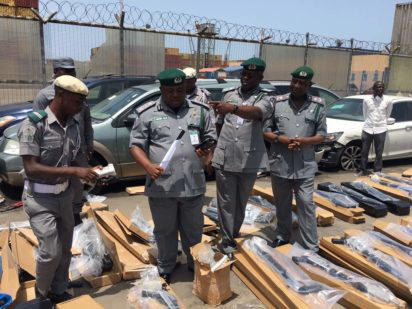 By Godwin Oritse
The Nigeria Customs Service has dismissed four of its officers who were found culpable in the importation and clearing of the 661 pump action rifles seized at Tin Can Island Port earlier in the year.
The officers were found to have illegally released a container load of arms after allegedly collecting bribes.
The officers' dismissal was confirmed last weekend by the Public Relations Officer (PRO) of the Nigeria Customs Service; Mr Joseph Atah.
Though he gave no further details about the dismissed officers, our sources hinted that they might be some of those who were arraigned before a Federal High Court in Lagos recently.
The officers are Mahmud Hassan, Oscar Okafor, Donatus Achinulo, Matthew Okoye, said be at large, and Salihu Danjuma.
They were alleged to have conspired to import 661 pump action rifles into the country from Turkey through the Apapa Port in Lagos, using a 40-feet container, which they falsely claimed contained steel doors.
To facilitate the illegal importation, the accused allegedly forged a number of documents including a bill of lading, a Form M and a Pre-Arrival Assessment Report.
It was gathered that the accused allegedly forged a bill of lading issued at Istanbul on January 9, 2017, claiming that it was issued at Shanghai, China.
In the forged bill of lading, they allegedly filled "steel door" as the content of the container instead of rifles.
It was alleged further that they offered a bribe of N400,000 to an official of the Nigeria Customs Service attached to the Federal Operative Unit to influence the said officer not to conduct a "hundred per cent search on the 40-feet container with number PONU 825914/3."
The prosecution also alleged that the first accused, Hassan, corruptly gave N1 million to government officers at the Apapa Port in order to prevent the search of the container by Customs officials.
The Customs PRO however explained that it was those involved in the first case that have been dismissed, adding that officers implicated in the second case involving importation of 440 pieces of rifles at Tin Can Island Port have only been suspended.
On the officers, the Customs PRO said: "I can tell you that the officers involved in the arms scandals both the one that happened at Mile 2 and the one at Tin Can have been dismissed and the suspects are facing prosecution. The whole cases of the arms are still in court this is the much I can tell you for now. All the suspects are under prosecution."