By Ola Ajayi
Ibadan—CENTRAL Council of Ibadan Indigenes, CCII, an apex socio-cultural group in Ibadan, has incurred the wrath of some family heads known as Mogajis for its claim that 90 per cent of Ibadan indigenes were in support of review and Sunday's coronation of new kings, saying the CCII had been "compromised."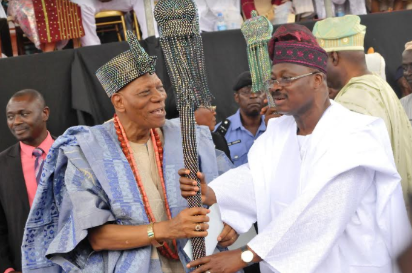 The Mogajis – Chief Abdul Jelili Karimu, Mogaji Adanla and Chief Olawale S. Oladoja, Mogaji Akinsola from Labiran compound who represented others wondered how, when and where the CCII leadership conducted its survey before arriving at the ridiculous figure of 90 per cent.
According to them, many Mogajis were terribly scandalized and surprised when they learned of what they described as unfortunate CCII story.
In a statement signed by Chief Abdul Jelili Karimu, Chief Olawale S.Oladoja, Mogaji Adanla, Mogaji Akinsola, the aggrieved people said; "As family heads in Ibadan land, we know where the shoes pinch, we know the feelings of our people at the grassroots more than a group of over-fed and vomiting elites. We wish to make it abundantly clear that we are solidly behind the Olubadan, Oba Saliu Akanmu Adetunji, Aje Ogungunniso 1.
"Hence, we have the mandate of all our families in Ibadan land to issue a disclaimer. Let us even assume that the CCII has capacity to speak for Ibadan, the leadership is heavily compromised and could not possibly be trusted anymore."