By Godwin Oghre
Sapele— The Committee for the Defence of Human Rights, CDHR, yesterday, issued a 21-day ultimatum to Delta State Government to end the ongoing crisis between Ogbe-Ijaw and Aladja communities in which several lives had been lost and property destroyed in recent times, failing which it will take legal action against the state government.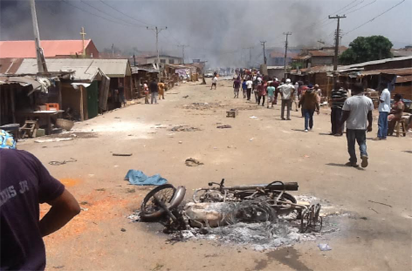 A statement by the Chairman, CDHR, Delta State chapter, Mr Prince Taiga, said: "We will no longer sit in our chambers while innocent people are being brutalized and killed daily in the lingering crisis between Aladja and Ogbe-Ijaw communities over a piece of land.
"We are aware that since the crisis started in 1995, several panels had been set up by both the state and local governments to resolve the crisis, all to no avail. Failure to comply with this ultimatum, we shall not hesitate to embark on massive protest as well as seek legal redress because we know that there are people inciting the war for selfish interest.
"These people enrich themselves while the Urhobo and Ijaw youths are killing each another, and none of their children is involved in the mayhem.
"We, therefore, condemn any other panel set up by the state governor, because the previous ones failed, ending up enriching themselves with the money allocated for the resolution to the crisis to the detriment of the communities.
"The crisis has caused untold hardship to both communities, claimed lives and property while several businesses and companies had folded up, leading to loss of jobs. Even the security agents sent there are taking advantage of the crisis to rape innocent girls, leading to countless unwanted pregnancies."
They  also called on the state government to, as a matter of urgency, acquire the disputed land and establish a hospital or school which will be of benefit to both communities.