By SIMON EBEGBULEM
BENIN CITY – THE Leadership of the newly registered Action Democratic Party (ADP) in the South South, has called on the leadership of the Arewa Consultative Forum (ACF) and that of Ohaneze Ndigbo to call their youths to order, warning that their utterances are capable of dragging the nation into another civil war.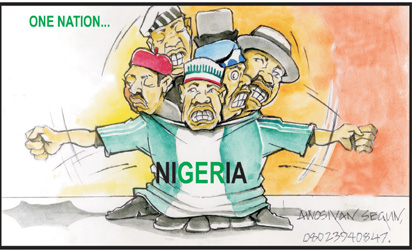 In a statement signed by the Leader of the party in the South South and former Chief whip of the senate, Senator Rowland Owie, it pointed out that it was clear that some leaders of the ACF were behind the ultimatum issued by the Arewa youths to the Igbos, apparently because of the activities of the Independent People of Biafra (IPOB) which "they felt the leadership of Ohaneze Ndigbo failed to stop their activities".
The Party warned that their activities so far are brewing tension in the country warning it is always difficult for a nation to survive two civil wars.
According to the statement, "I wish to call on the leadership of the ACF and OHANEZE INDIGBO to act now and save Nigeria from War by calling their youths to order urgently. Yes, it is clear that the ACF who had expected the Igbo leaders to call their IPOB youths to order failed to do that, that seems to have directed their youths to issue the ultimatum to the Igbo.
"But a Bini parable says you don't describe the female organ to a circumcision nurse.
Nigerians are now aware that a number of the Leaders of ACF authorised the Igbo quit notice issued by the Arewa Youths. I know Alhaji. Yerima, the President of Arewa Youths. He is a very detribalised Nigerian. They but they should know that no Nation has ever survived two civil wars".
Commending Alhaji Atiku Abubakar for condemning hate speeches in the North, Owie stressed the need for Northern Governors to check the activities of the Arewa youths "because if not for Atiku, no other Northern leaders has come up to condemn their activities and hate speeches they have been making. How can people start songs of war when we are battling to economic hardship.
"Most of these North leaders and leaders of Ohaneze Ndigbo witnessed the civil war and it will be pure insensitivity and wickedness on their part if they continue to allow these youths make comments capable of destabilizing the nation. They must come together and stop them now because it is too late".