By Emma Una
CALABAR—PASTOR Anthony Obo of God's Commandment Ministry was defiant, yesterday, when he was paraded by the Police, claiming that the 'occult items' found in his church were drama costumes, while the blood found in a red bucket in his church was that of a goat and a chicken he killed to celebrate his baby's dedication.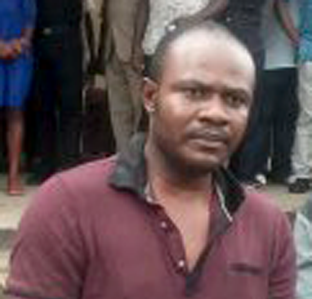 The pastor, who was paraded along with five other accomplices, told Vanguard that he did not abduct the one-year, six-month-old girl whose heart was reportedly found in a white basin in his church.
He said: "The red chairs covered in white sheet and the black bag and other occult items were used by the youth of my church for art and drama presentation, while the blood in the red bucket is that of the goat and chicken I killed to celebrate the dedication of my child who was one year last week."
The pastor, who was once a commercial motorcyclist (Okadaman) watched without displaying any emotion as the Police displayed the items which he was said to have been using for his pastoral activities.
Police probe
Spokesperson of Cross River Police Command, Ms Irene Ugbo, said the pastor and his accomplices were arrested following a confessional statement by one of the suspects that they were sent by the pastor to abduct and kill a baby, whose heart was put in a basin and handed over to him.
She said: "The heart has been sent to the University of Calabar for forensic examination, while we are investigating where the body of the baby was dumped or buried."
She said investigations into pictures of those found in the church are being carried out to identify the reason the pictures were found there.
He's not one of us—PFN
Meanwhile, the Pentecostal Fellowship of Nigeria, PFN, Chairman in the state, Dr. Lawrence Ekwok, has called on the Police to carry out proper investigations and ensure that the man, if found guilty, is prosecuted to serve as deterrent to other "herbalists who parade themselves as pastors to cause havoc in the society."
He added: "We commend the members of the public for being alert and they should continue to blow whistles on others who have the same obnoxious intentions and attitudes as Anthony Obo."
Subscribe for latest Videos