The Executive Secretary of the Fertiliser Producers and Suppliers Association (FEPSAN), Alhaji Ahmed Rabiu Kwa, says Nigeria will begin to export fertiliser in the next five years going by the programme of the Presidential Fertiliser Initiative (PFI).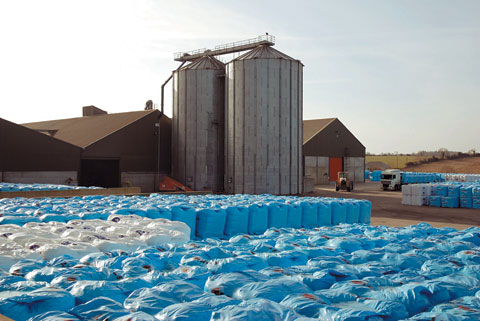 Kwa in an interview in Abuja said the PFI of the Muhammadu Buhari-led administration had seen the revival of 11 fertiliser blending plants in the country and was now working towards increasing production for export.
"Five additional blending plants will begin production by the end of this August. This will complement the existing 11 plants in the country.
"Once we have a proactive government like we have now, in the next five years things will turn around in the fertiliser industry. It will be sufficient and we will be able to supply our neighbouring countries in West Africa.
"At the moment, Dangote has gone into agreement to produce about 2.8 million tonnes of fertiliser by 2019; that is a big injection into the industry.
"The future is very bright for the fertiliser industry because at the moment in Nigeria, we are using 10 kilogrammes of fertiliser per hectare as against world average of 100 kilogrammes," Kwa said.
The FEPSAN executive secretary said the Central Bank of Nigeria (CBN) through the National Sovereign Investment Authority (NSIA), provided the necessary funds needed for the revival of the industry.
He noted that fertiliser supply had significantly increased in the country in the last six months compared to what was obtainable in previous years.
Kwa noted that the current PFI had saved Nigeria over 200 million in foreign exchange and had also brought down the price of the product from N10,000 to N5,500 for a 50kg bag.
"This is an excellent and wonderful achievement; the PFI is one of the best thing that happened to Agriculture in Nigeria over the years.
"So many programmes have been put in place to supply fertilisers to farmers over the years but none succeeded like this one.
"This present initiative ensured that fertiliser is produced locally and not imported; only few raw materials are imported, while others are sourced locally with over 250,000 direct employments.
"Activities have been generated in the value chain in terms of transportation, labour engagements at the plants including loading and offloading.
"Distributors have been registered to distribute the product; all these activities have brought change in agriculture and particularly the fertiliser industry.
"Availability and supply of fertiliser has greatly improved since this programme started in February this year," he said.
Kwa urged the Minister of Transport Rotimi Amaechi and his counterpart in the Ministry of Power, Works and Housing, Babatunde Fashola, to ensure that the country had good transport and road network to easy the challenges faced by distributors and drivers when transporting fertiliser.
He said: "You know that building infrastructure is the duty of the three tiers of government; we are working and making advocacy with the ministry of transport and the ministry of works and they are doing their best to improve road networks.(NAN)