Osogbo — The  Governor of Osun state, Mr Rauf Aregbesola, has reiterated the call for a united and strong Nigeria whose central and historic position on the black continent must be realised for the black race to take its rightful position.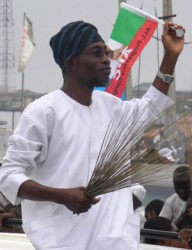 He made this call when the Christian Association of Nigeria, CAN, paid him a courtesy call and condolence visit yesterday.
The National President of CAN, Rev. Dr Samson Ayokunle, had led some Christian Associations to the government house to pray for the repose of the soul of the late mother of the Governor, Alhaja Saratu Aregbesola, who passed on recently.
Aregbesola said Nigeria must not fail as a nation if it is to fulfil the roles and responsibilities history placed at its doorstep as the champion of the black race.
According to him, a united Nigeria is capable of taking the black race to its rightful place, stressing that Nigerians should always remember that they are the only race that can make a mark in the world.
The Governor, who called on other bodies like CAN to support and pray for the country, added that for the black man to have headway in the world, then Nigeria must not fail.
He explained that for Nigeria live up to performing its roles in uplifting the black race in the world then all hands must be on deck to support it to achieve the goal of making the black man important.
He thanked the CAN president for the condolence visit saying that he is happy that his mother died at a good time without stress, praying for all to have the opportunity of exiting the world at a time one will be celebrated.
He noted that the quality of life she lived is made manifest in the lives of her offspring, Governor Aregbesola inclusive, saying the good and hard work of the Governor must have been taken from Alhaja Saratu Aregbesola.