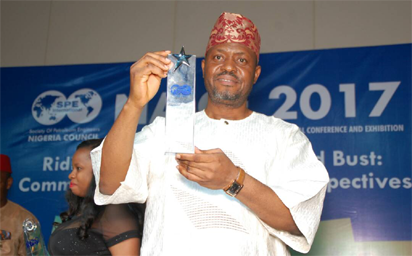 AOS Orwell, Deputy General Manager, Marketing, Mr. Usman Amodu – Shuaibu, displaying the First Place Exhibition Award won by his company at the just concluded Society of Petroleum Engineers( SPE) Annual Banquet and Award in Lagos
Nigerian's indigenous oilfield services company, AOS Orwell, wins first Position exhibition award, category two at the just concluded Nigeria Annual International Conference and Exhibition (NAICE).
The conference organized by the Nigeria Council of the Society of Petroleum Engineers SPE in Lagos, witnessed about 60 companies participating in the exhibition.
The Chairperson 2017 SPE Exhibition Committee, Oghogho Effiom while congratulating the winner said: "We are presenting this award to AOS Orwell for an outstanding display of creativity and technical excellence in their presentation of value offerings throughout the 2017 NAICE SPE Exhibition".
Receiving the award on behalf of his company, AOS Deputy General Manager – Marketing Mr. Usman Amodu thank the SPE for its recognition/ support.
He dedicated the award to the entire AOS Orwell exhibition team who worked tirelessly behind the scene and rally round towards ensuring that the company achieved this great feat that would undeniably bring high impact visibility to his brand in the industry.
Earlier at the SPE Annual banquet and awards ceremony, Mr. Bimbo of PwC thanked the SPE for appointing his company PwC as an independent panel of advisers to appraise the exhibitors. According to him, the final selection of each category of winners is based on:
1. Booth design, quality, Attractiveness
2. Audience engagement: regular live shows, crowd pull, discussions / demonstrations at the booth, popularity of the booth for topical subjects and activities
3. Booth personnel: Diversity of booth representatives (gender & age), Professional appearance, friendly disposition, booth personnel presence always
4. Technology on show: 'WOW Factor' – interesting physical models, videos, other differentiating items on display at the booth
AOS Orwell was adjudged best and first place award winner in category 2 (Exhibitors occupying 2 – 5 booths) for blazing the trails on all the above stated criteria at this year's event.