By Chimaobi Nwaiwu
THE Oba Community in Idemili South Local Government Area, Anambra State, has called on Governor Willie Obiano to address, without further delay, problems allegedly created by some officials of his government in the community, before November 18, 2017, governorship election in the state.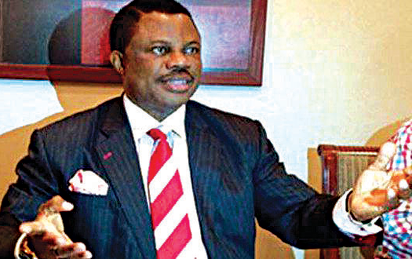 The traditional ruler of the community His Royal Majesty, Igwe Peter Ezenwa and the president general of Oba Patriotic Union, OPU, Chief Ifeatu Uzowulu, in respective interviews with Vanguard said that "Oba community is aggrieved and bitter with the present government over certain treatments against their people."
According to the traditional ruler, "we are not happy with the state government over its dealings with individuals on the abandoned Oba Airport land, acquired from us for overriding public interest, which has been turned into building of private estate by individuals, without considering the interest of Oba people who own the land."
Igwe Ezennwa told Vanguard shortly after the New Yam festival in his palace that "the action of the government has thrown Oba community into turmoil, making us suspicious of ourselves and quarreling and fighting between ourselves, because of mind boggling level of dishonesty of the officials of the government ministries involved in the transaction at the abandoned Airport Land.
"The Anambra State Government acquired the land from Oba people on overriding public interest, for the building of Oba Airport which was later cancelled, and the government promised that it would be used for building an Industrial Park, which is another public interest project, but today individuals are building private estates on the land claiming they acquired part of the land from government."
President General of the Community, Chief Uzowulu, on his part, appealed to Governor Willie Obiano "to look inward." He said the governor should look into Oba as there is a yawning gap between Oba community and Anambra State Government, particularly in his administration.
"There is need for this government to pay a little attention to our community's complain, things are not normal between Oba community and Anambra State Government, and the sour relationship has worsened under this administration,"