By Dayo Johnson
Akure—GOVERNOR Rotimi Akeredolu of Ondo State yesterday swore in 18 commissioners even as he lamented the N220billion debt he inherited from previous administrations in the state.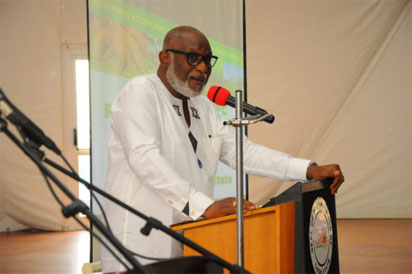 However, Akeredolu disappointed many that attended the ceremony by not announcing portfolios of the new members of his cabinet.
Ten advisers were equally sworn in by the governor in Akure.
Speaking on the finances of the state since he assumed office six months ago, he said: "The economic condition of this state is precarious. We expend virtually all allocations and the insignificant revenue generated internally on recurrent expenditure.
"The internally generated revenue is very low. The huge debts owed by the State have been worsened by infrastructural deficit on ground. Yet we strive to discharge our obligations to creditors whose exactions on our very poor revenue militate, significantly, against planning.
Akeredolu said; "This Administration at inception met a staggering debt totalling N220,588,125,731.00.
"With such inherited debt, it should not be difficult for anyone to know that the government's capacity for seeming elastic adjustment to cater for the people has been stretched to its limit.
"There is no gain asserting the obvious; our administration is not in any position for frivolities.
"All of us must gird our loins for the great task ahead. The picture is not good. Therefore, all acts with the potential of pushing us deeper into economic crisis must be jettisoned. We earnestly promise to provide the needed leadership.
On the new appointees, the governor said; ''Today's ceremony marks yet another milestone in the history of political representation in our state.
"With these eminent men and women chosen to serve the state at this level, I fervently hope that the state service delivery system will be reinvigorated upon these appointments.