The Manufacturers Association of Nigeria, MAN, has said that not less than 75 manufacturing firms from about 150 in its membership list in the South East had shutdown in the last five years over bad access roads, poor infrastructure and others.
Chief Azubuike Okafor, chairman of MAN in-charge of Anambra, Ebonyi and Enugu, said this at the first Anambra Government-Development Partners summit in Awka on Tuesday.
Okafor attributed the shutdowns to poor infrastructure, including bad access roads, was negatively affecting cost of production by its members in the zone. He said such development made it unsuitable for the firms to operate in the region.
"About fiver years ago, we had about 150 manufacturing firms in our membership list in the zone and now about 75 of them have closed dow; that represents about 50 per cent of members.
"We do not have the enabling infrastructure, power and roads to operate; the cost of moving materials from Lagos to Anambra is almost the same as the cost of importing the material from China into Nigeria.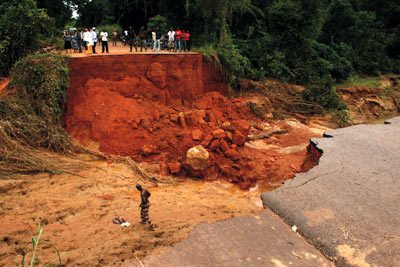 "Though we have a business friendly governor in Anambra, there is need to help the private sector to grow," he said.
Mrs. Adejoke Adefulire, Senior Special Adviser to the President on Sustainable Development Goals (SDGs), said there were infrastructure gaps in the country.
Adeufulire said the Federal Government was working hard to ensure that gaps were bridged to evolve a friendly and sustainable business environment.
Prof. Solo Chukwulobelu, Secretary to Anambra Government, urged the Federal Government to revitalise and activate the moribund power project in the state.
Chukwulobelu said if made functional, the power infrastructure need of the industrial cities in Anambra would have been greatly addressed.
On his part, Mr. Mark Okoye, Anambra Commissioner for Economic Planning and Budget, said the state government was working towards incorporating the ministries and agencies in the state to ensure that the SDGs were achieved.
He said the state was conducting a baseline study and generating community charter to ensure that budget was tailored along the priorities and direct demands of the beneficiaries.
Okoye said the budget defence process would be expanded to accommodate the youth, women, organised private sector and the civil society, to ensure greater participation and better implementation.