— Ikotun-Igando Chairmanship returnee tells residents
By Olasunkanmi Akoni
UNLIKE many candidates who made promises during political campaigns and never fulfilled when elected, an All Progressives Congress, APC, female chairmanship candidate, in Ikotun Igando, Local Council Development Area, LCDA, Mrs. Morenike Adeshina Williams has expressed her desire to deliver dividends of democracy to the teeming populace through their support and cooperation if elected into office in the July 22 local government election, as she cannot do it alone.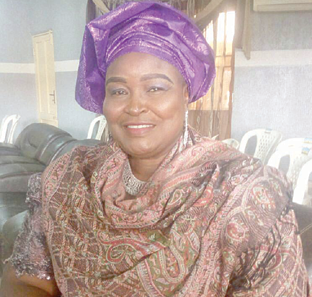 Williams, a former Executive Chairman of the council between 2011 and 14, stressed that without God and people's support no administration or government can do it alone if it really wants to succeed.   According to her, "Though, there were agitations for Awori person to occupy the office, I was able to convince them that continuity is better and that women do make great difference in politics. Women are great administrators. In this case, they are even lucky because, I know where I stopped and I know where to start from; not that we have to start from the scratch.
"I know the challenges and solutions. I have been tested and trusted. 'Am even happy for having the type of governor we are going to work with, because Governor Akinwunmi Ambode is a performer."
She expressed appreciation to APC chieftain, Asiwaju Bola Ahmed Tinubu, Governor Ambode and party leaders for giving her the opportunity to present herself to serve the people once again.
On employment opportunities
She urged the youths to monitor websites where states and FG are creating job opportunities and apply. "I can do the follow-up on the application forms with the appropriate authorities to the letter in order to ensure that jobless youths in our area are gainfully employed. As well, I intend to give indigent residents free GCE and JAMB forms as I did during my first term and I will not stop on this."
She also promised not to owe any traditional ruler their salaries and other benefits saying, "I will not let them lack any good things. I am using this opportunity to thank them for their tolerance, support for my emergence as APC chairmanship candidate for the second term. It shows they have confidence in me to deliver once again and it's also an affirmation of my administration's performance during the first term.
"I am using this opportunity therefore, to assure everyone that I will continue to deliver dividends of democracy and strive to even do more in making life easier for all and sundry throughout my tenure in office. I mean, I will do more from where I stopped.
"I thank the newly crowned traditional ruler of Akesan, Onigando of Igando, Ijegun and also Oba of Ikotun. The artisans, traders and everyone irrespective of class, ethnic background, sex, and religion would not be left out and whatever there is left I believe my people will always remind me because I can't do it alone. I don't give fake promises.
"All the promises I am giving, by God's grace I will fulfill them because all the promises I made in the first term I was able to deliver and all that I left uncompleted I will continue and complete them this time around
"I want Ikotun-Igando to be a better, modern place; a choice council in the mega city of Lagos State. Ambode has done a great job and I will like to complement the transformation projects on-going across the state, starting from Ikotun- Igando council. There's no area in the state that the governor has not touched since assumption of office. He has made the job easier for us."
On boosting IGR: She said her administration would make effort to boost the Internally Generated Revenue (IGR) in the area, promising to operate an open door policy to move the council forward.
 Rising human population
She said roads, security, upgrading of health facilities, welfare packages, and improvement in the administration of Internally Generated Revenue would top priorities because of the need to address the challenges facing the area with rising human population.
On plans to source for other means of running the office, she continued, "Before I left we were making about N67 million as monthly IGR and now I know it has improved. Those who were depleting the income through duplication of receipts were arrested and sacked and the money is now coming to the council directly. If elected, I am going to constitute a committee that will be monitoring the administration of e-IGR inorder to get the best for the people.
"Through the IGR, I was able to complete rehabilitation of Health Centres in some areas such as Abaranje and Ikotun. I intend to continue with these areas and others as part of efforts at equipping the centres with modern technical infrastructure, materials."
Williams, therefore, called on residents and electorate to eschew violence before, during and after the poll, saying there is no need for violence because it's not a "Do-or- Die" affair but an opportunity to serve the general public even as she called on security agencies to provide adequate and equal security for all without any bias.