BY JOSHUA ERUBAMI
Years after a former Commissioner on the board of Delta State Oil Producing Areas Development Commission (DESOPADEC), Chief Henry Ofa lent helping hands to youths in his constituency, posterity seems not to have forgot him.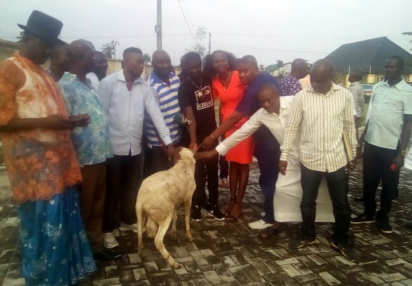 This followed a recent thank you visit to the Oghara abode of Ofa by one of the beneficiaries of his good gestures, Comrade Randy Temishe who led a delegate of Urhobo youths to appreciate his developmental efforts.
Speaking on behalf of the delegation which comprised leaders of vigilante formations in Okpe, Sapele, Ethiope West, Udu and other Local Government Areas of Delta State, Temishe recalled how the former DESOPADEC Commissioner gave him a financial assistance that later became a positive turning point in his life and those of other youths.
Temishe who recently returned from Ukraine having completed a professional training course on security management, disclosed that it was through Ofa's support that he was able to legalize his marriage after about 15 years of being together with his wife.
According to him, more help came his way after his encounter with the Peoples Democratic Party (PDP) chieftain, describing him as a destiny helper.
He added that the Ethiope West, Sapele and Okpe Local Government Areas witnessed a heavy DESOPADEC presence during Ofa's tenure as its representative, noting that since he left the office, there has been a noticeable decline in the development efforts of the interventionist agency.
He appealed to Ofa to contest for an elective position in 2019, assuring that all Delta Central youths will give him a perfect endorsement and total support.
Responding, a visibly elated Ofa said he was astonished by the youths' rare show of appreciation for the numerous developmental strides he achieved while in office, noting that his deeds were triggered by the desire to improve the lots of his people.
The erstwhile Commissioner who received the delegates in the company of the Ethiope West Local Government Council Chairman, Hon. Solomon Golley, President of Oghara Youth Association, Comrade Favour Ededey among others, commended former governors James Ibori and Emmanuel Uduaghan for appointing him into various positions in their governments.
"I am honoured by your show of appreciation to me and also very happy that there are still honest people who genuinely recognize my good deeds in DESOPADEC.
"Again, I wish to express my profound gratitude to former governors James Ibori and Dr. Emmanuel Uduaghan. Without their benevolence, this day would not have come. They gave me the opportunity to serve my people as a Commissioner on the board of DESOPADEC and in other capacities", Ofa observed.
On the call to seek an elective position, Ofa added: "Governance is about protecting the interest of the masses and improving their welfare. It matters less of who occupies a position as long as he or she is fighting for the interest of the masses. That is my belief.
"I have had several calls to contest elections but I am still making the necessary consultations. When the time comes, you will be informed".
He called on the youths to support the administration of Governor Ifeanyi Okowa and also work assiduously to ensure his victory at the 2019 gubernatorial gubernatorial polls.
Ofa also advised them to see their vigilante assignments as a sacrificial task done in the interest of their respective communities, adding that only God can fully reward their efforts.
A high point of the event was the presentation of a golden wrist watch and a ram to Ofa in recognition of his sacrificial services to humanity.