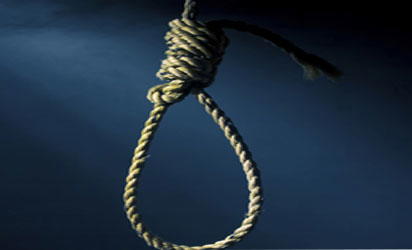 Suicide
An Ado-Ekiti High Court on Thursday sentenced a 19-year-old boy, Adeolu Bamiteko, to death by hanging for armed robbery.
The Judge, Justice John Adeyeye, who handed the sentence, also slammed another 10-year jail term on the convict for unlawful possession of firearms.
Adeyeye held that the accused was guilty as charged having committed the offence contrary to Section 6 (b) of Robbery Firearms (Special Provisions) Act Cap R11 Laws of Federation of Nigeria 2004.
He said that Bamiteko was arrested and arraigned alongside a 12-year-old boy, Ayobami Ojo, on a three-count charge of conspiracy, robbery and unlawful possession of firearms.
The court, Adeyeye said, discharged the boy on grounds of being underage in line with Section 30 of the Criminal Code.
He said Bamiteko's charge sheet stated that he robbed one Adefunke Amire of her Nokia phone near the Ewi's Palace in Ado-Ekiti on July 14, 2016, with a locally-made pistol with live cartridge and one knife.
The judge said that the convict was arraigned on Feb. 16, 2017, and he pleaded not guilty to the charge.
Adeyeye said that the prosecution called three witnesses to prove the case while the accused did not call any witness.
He also said that the prosecution tendered exhibits such as the statement of the accused, items stolen from the victim and one locally-made pistol with live cartridge.
Others were one knife, two Nokia phones and a golden wristwatch which were admitted as exhibits.
He held that the court found Bamiteko guilty of armed robbery and unlawful possession of firearm as contained in counts one to three and accordingly convicted him.
"On count two, the sentence of armed robbery is mandatory in respect of which I have no discretion.
Therefore, the 2nd defendant is sentenced to death by hanging until he be dead. May the Lord have mercy on your soul.
"On count three, the second defendant is sentenced to 10 years' imprisonment," the judge ruled.