By Emmanuel Ayungbe
Uyo—A member of Akwa Ibom State House of Representatives, Mr. Aniekan Bassey, has told the House that armed men suspected to be militants and sea pirates yesterday, reportedly killed scores of residents in some fishing communities in Uruan Local Government Area of the state with several others displaced.
The incident, he noted,  occurred in the riverine communities of Uruan, Akwa Akpa Uruan, Ebiet Ette and the adjoining community of Ayadeghe in Itu Local Government Area of the state.
Lamenting the ordeal of his people, Bassey said that property worth millions of naira were destroyed while dozens were either missing or killed during the attack.
Fishing gears including outboard engines, boats, cash and other valuables, according to the lawmaker, were carted away by the invaders allegedly from neigbouring Creek Town, Ikot Offiong and Ikoneto in Odukpani Local Government Area of Cross River State.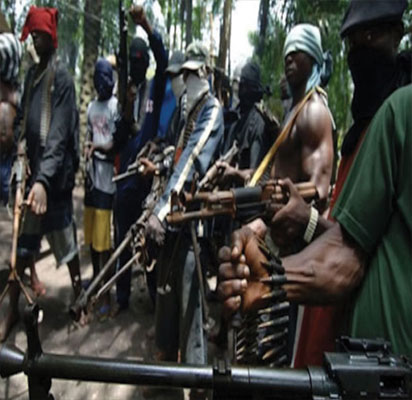 The lawmaker, who presented a bill for a law against such excesses, appealed to members to accelerate deliberations and passage of the bill in view of the current travails of his people.
He lamented that the invaders also razed down the only primary school in the community, thereby disrupting teaching and learning and the future of the young ones.
"We also want the state government to quickly intervene by erecting the Internally Displaced Persons, IDPs camp to give succour to the helpless riverine dwellers badly affected by the problem," he said.
He made a case for the deployment of gunboat and other security infrastructure along the Ikoneto axis of Akwa Ibom\Cross River waterways to curb the frequency of cross border attacks.
To safeguard the fishing ports, Bassey appealed for a standby marine Police post to be established at the Ishiet beach and other waterfronts within Akwa Ibom territorial waters.
In the same vein, the Uruan Local Government Chairman, Dr. Edwin Okon, said "My people in the fishing communities have suffered untold hardship by the militants who always cross into Akwa Ibom through the water ways.
"We have lost countless number of people to these militants and we want government and other agencies,  including the National Emergency Management Agency, NEMA and the State Emergency Management Agency, SEMA, to come to the aid of the displaced people," he lamented.
When contacted on the matter, the Divisional Police Officer (DPO) in-charge of the area, Sunday Effiong, confirmed the incident, describing as "pathetic."
According to him, the matter has not been officially filed by the people of the area, stressing that matters of such magnitude should be tackled by the community leaders in conjunction with the Police.
The Police spokesperson,  Chukwu Ikechukwu,  said,"Failure of the community to file the matter with the Police in the area was hampering investigation and action on the problem."
He  advised the public to always volunteer information on crimes and criminal elements to security agencies for prompt action.