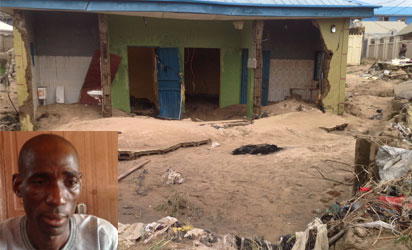 Houses submerged by flood(Inset: Malam Gura)
By Wole Mosadomi, Minna
It was a sad day for residents of Checheniya, Kaltuma and Angwan Gwari  in Suleja local government area of Niger State last Sunday.
Similarly, residents of Ayim- Nassarawa and environs in Tafa local government area of the state will not forget in a hurry the disaster that  befell them  same day.
In the four communities, what started as usual rainfall turned  into flooding of gargantuan proportion.
As at the time of going to press, 15 lives had been reportedly lost to the flooding, about 100 houses submerged, farm lands worth millions of Naira  swept away while some residents were still  missing.
The torrential rain began penultimate Saturday night  and lasted for over five hours.
The darkness that enveloped the communities  made it difficult for the affected people to escape to the upland neither could they be rescued because of the bad terrain.
The houses submerged were built  close to water paths, thus making them prone to flooding.
While many of the survivors were thanking God for being alive and salvaging some of their property, Malam Sa'adu Abubakar is not that lucky.
A popular tea seller, Abubakar not only had his house submerged, his two wives and six children were washed away by the flood.
According to him, he watched helplessly as massive water carried away the members of his family.
Narrating his ordeal in Suleja, the bereaved man  said he returned home from his shop around 11 pm  that Saturday.
"It was unusual to get back home around that time and still meet my entire family awake and expecting me. We chatted  and  went to bed only for the rain to start around 1am. Then the rain turned into downpour and before we knew it, flood  had taken over all the five rooms in the house. The water carried  two of my children who held unto my dress but the force of the water snatched them from me and  swept them away.
At this juncture, Abubakar was unable to hold back tears as he narrated how the two wives and other children were also swept away by the flood.
The survivor said,"My thinking was that my two wives and the six  children must have been rescued only to find that they could not be traced.
"My six-day-old baby whose naming ceremony was slated for last Monday was seen firmly tied to the back of his mother but, unfortunately, both of them were swept off.
"My being alive to relay this sad  story is even a miracle because I don't know how God spared my life because the flood also took me several  meters away from my house before I was miraculously dumped somewhere where I managed to come back to life".
He said he thought of going back to his house in the morning to assess the extent of damage and trace members of his family, only to  see from a distance the  collapsed house along with some houses in the area.
The victim said at about 10am on Sunday, the news was broken to him that the corpses of his second wife and the six-day-old baby she was carrying on  her back at the time of the flooding and two of his other children had been recovered while those of the remaining four children were yet to be recovered.
Malam Mansur Gura, another survivor with bitter  tale to tell, said  his junior brother, aged 25, drowned as he was trying to recover the corpse of a woman seen floating and being carried  away by the flood.
"As my brother slipped into the running water, he hit his head against the rock in the flood and, while still trying to again his balance, he lost control as he was seen being swept away. Up till now, we are yet to recover his body," Gura lamented.
The body of another victim, 19-year-old Senior Secondary School student, Shehu Suleiman, was found on Tuesday morning. He was said to have just finished his SSCE.
In both local government areas affected by the flood,  some of the victims had relocated while some others, who had nowhere to stay, were seen stranded and appealed to local, state and Federal Governments to resettle them and assist them financially.
Director General of Niger State Emergency Management Agency (NSEMA), Alhaji Ibrahim Inga, described the flooding as severe, adding that the agency was still going round to ascertain the extent of damage.
According to him," as at Monday, 11 people have been confirmed dead, two bodies recovered  while some are missing and, until we have all relevant information, we will not know how government will come in."