LAGOS—THE League of Patriotic Lawyers has said that a number of lawyers have been assembled  to strengthen the defence team of the Chairman of Economic and Financial Crimes Commission, EFCC, Mr. Ibrahim Magu in a suit  before Justice Babatunde Quadri of the Federal High Court Abuja.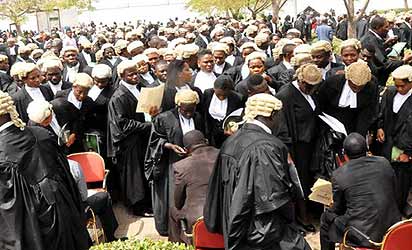 Briefing newsmen in Lagos after a solidarity visit to the EFCC boss, President of the League, Mallam Abubakar Yesufu urged Magu to remain undaunted.
His words: "The suit against Ibrahim Magu, like other conspiratorial arrows aimed at the crime fighter is again bound to fail. It  is cheering that the battle has eventually been taken to court where these series of blackmail, intimidation, distractions and other  attempts to unseat the crime fighter would be settled once and for all.
"Only the President or the Acting President has the constitutional power to withdraw Magu. Until and unless this is done, Magu would continue to function as the Acting Head of the Crimes Commission.
"The President discretion cannot and should not be fettered in the choice of Magu, the league argued."