The new US special envoy on Ukraine said Sunday that Russia is responsible for the "hot war" in the country's east, after fresh clashes between government forces and Russian-backed rebels.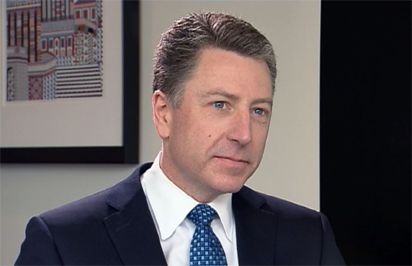 Kurt Volker, who was appointed this month as the State Department's special representative for negotiations to end more than three years of fighting, was visiting on the eve of telephone talks between the leaders of Ukraine, Russia, Germany and France on how to stem a conflict that has claimed 10,000 lives.
"This is not a frozen conflict, this is a hot war and it is an immediate crisis that we all need to address as quickly as possible," Volker said while visiting the government-controlled city of Kramatorsk in the war-torn Donetsk region.
"I wanted to come here… and to see firsthand the situation along the line of conflict," Volker, wearing a bulletproof vest, told journalists.
"It is truly a high degree of suffering, there was a high human cost to this conflict and that is another reason why it is so urgent that we address it."
His visit follows a fresh flare up in fighting in eastern Ukraine which has claimed the lives of 11 Ukrainian troops over the past few days, the most serious surge in bloodshed in recent months.
Ukraine and the West say Moscow has funnelled troops and arms across the border to fan the flames of the war in Europe's backyard.
Moscow has denied the allegations, despite overwhelming evidence that it has been involved in the fighting and its explicit political support for the rebels.
Volker agreed when asked whether he considered the conflict to be the result of Russian aggression rather than a Ukrainian civil war.
"We understand the way this conflict has begun, we understand the way it is being managed today and that is why it is important the US become more engaged," the former US ambassador to NATO said.
On Monday, Volker will have talks with Ukrainian authorities in Kiev and next week will visit France, Belgium, Austria and Britain before going back to Washington to make "some recommendations about exactly how the US can engage better".
The US and EU have imposed sanctions on Russia, but efforts to secure a peace Ukraine deal have ground to a halt as the fighting has dragged on.
The conflict, along with Russia's annexation of Crimea from Ukraine in 2014, has pushed ties between Moscow and the West to their lowest point since the Cold War.