As Nigerians continue to agonise over the prospect of  the Super Eagles  qualifying for the World Cup following Carl Ikeme's admission in hospital for the treatment of  Leukemia, the Wolves goalkeeper has assured that he would be fit to come back and guard the sticks for Nigeria.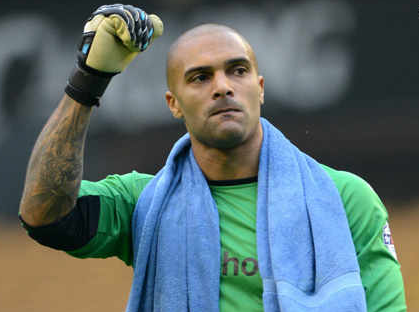 This cheery news was given  by Ikeme who said that he was going to follow the footsteps of notable players who beat Leukemia and came back to play football.
Ikeme who is undergoing a grueling treatment said that he was so sure of coming back to the national team because of the tremendous love and goodwill of many Nigerians and that of club and footballers.
Ikeme's diagnosis with Leukemia brought pain and agony to Nigerians who watched in dismay at the woeful display by Daniel Akpeyi who let in two goals against the Bafana Bafana of South Africa in a Nations Cup qualifier to give them the bragging right of beating Nigeria in any competitive match. More painful that the defeat was at home – at the Nest of Champions stadium, Uyo.
The defeat threw up a debate of getting a capable hand to replace Ikeme while others called for the recall of former goalkeeper Vincent Enyeama who voluntarily retired after a spat with former coach, Sunday Oliseh.
Apparently aware of the jigsaw, Ikeme confided on sources that he was so strong and sure that he would come back to keep for Nigeria at the big stage in the World Cup in Russia.
Our source who spoke with Ikeme said that the goalkeeper had a Lion-heart and was doing well with his treatment. ''He was looking hale and hearty and was in a good mood. He promised that he will be back to keep for Nigeria''.
Ikeme, no doubt, would draw strength from such big players like Geoff Thomas who himself  was diagnosed with the disease in 2003, recovered and now raises money for the cure of leukemia.
There is also Lance Armstrong who was diagnosed with stage three testicular cancer in 1996. The cancer had spread to his brain, lungs and abdomen, but with treatment, Armstrong came out fit.
Eric Shanteau was diagnosed with testicular cancer in July 2008. One week later, he earned himself a spot in the 2008 Summer Olympics where he placed a personal best time. After the Olympics, he had surgery to remove his testicle. He is now cancer free.
Shannon Miller announced that she had been diagnosed with germ cell ovarian cancer in 2011. She underwent chemotherapy and by the end of the year, she was cancer free.
NEWCASTLE'S Jonas Gutierrez is one of several footballers who have fought testicular cancer and thankfully gone on to resume his playing career.
Alan Stubbs:The former Bolton Wanderers, Everton and Celtic defender beat cancer on two separate occasions.
Neil Harris: The former Millwall striker was diagnosed with testicular cancer in 2001. After receiving intensive treatment including surgery, the Millwall legend was given the all clear a year later.
While playing for Hull City, Duke underwent an operation to remove a testicular tumour in 2008. The goalkeeper returned to the squad two months later and went on to play for Bradford City and Northampton Town.
Ex-Tottenham and Chelsea defender Jason Cundy was also successfully treated for testicular cancer and resumed playing. In 1997, Cundy was diagnosed with testicular cancer, from which he later recovered and continued playing.
Former Arsenal, West Ham United and Celtic striker John Hartson also fought testicular cancer. In July 2009, after Hartson had retired, the former striker received chemotherapy after being diagnosed with testicular cancer which had spread to his brain. Thankfully, the treatment was successful.
Ikeme according to our source said that he was so sure that the goodwill of Nigerians and fans from his club would see him come out successfully to join the lists of those who who beat leukemia to return to the game.