There was pandemonium on Tuesday in Osun, as Staff and students of Obafemi Awolowo University (OAU) Ile-Ife, staged violent protest at the premises of the State High Court, Ede.
The protest followed Justice David Oladimeji's order that a former Acting Vice Chancellor of the institution, Prof. Anthony Elujoba and the bursar Mrs. Aderonke Akeredolu be remanded at Ilesa Prison.
Lecturers, students and other categories of workers locked the gate of the court as the prison van escorted by heavily armed guards whisked Elujoba away.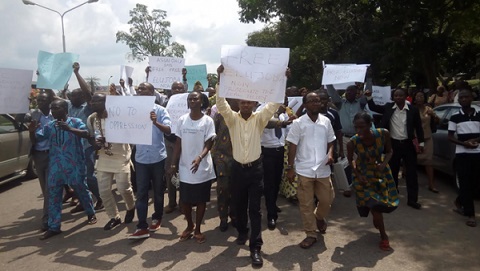 The protesters demanded the unconditional release of the former vice chancellor and threatened to occupy Ilesa Prison until Elujoba was released.
The angry workers locked the gate of the court premises; but armed policemen later forced open the gate.
On July 7, the Economic and Financial Crime Commission (EFCC) arraigned Elujoba and the bursar, over alleged N1 billion fraud.
The two accused were arraigned on a seven count charge.
Elujoba was alleged to have paid workers allowances totaling about N1 billion which was not budgeted for.
The accused, however, pleaded not guilty to the seven-count charge.
Their counsel, Mr. Ibrahim Lawal, made an oral application for bail.
After listening to the bail application, Oladimeji ordered that the two accused be remanded in Ilesha prison pending the ruling on their bail application.
He adjourned the case until July 19.
As the judge rose after his ruling, several workers, who were displeased with the ruling, staged angry protest in the court premises before the accused were whisked away.