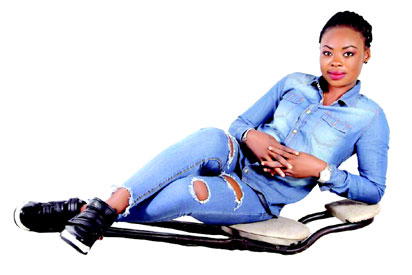 Actress, Chidinma Nwadike
By Ayo Onikoyi
Making it in any movie industry the world over is never a child's play venture; be it Hollywood, Bollywood or Nollywood. With beauty and brawn a dime a dozen, the battle is purely survival of the fittest. And if revelation of Nollywood actress, Chidinma Nwadike is anything to go by, even the fittest get some help, which according to her, is not very often healthy.
The Ebenator Ekwe, Imo State-born actress, who shot into public glare in an epic movie 'The Eagle Eyes' some five years ago told Potpourri pointblank in a chat that over 80% of Nollywood actresses use charms to get movie roles.
"Yes, it is true 90% do Juju. When I first started as a walker pass and that was during the days of Saint Obi, Liz Benson,  Emeka Ike, you go to auditions and win your roles by merits not  by any favouritism.  If you are not good you won't get a role. You have to be good to get the  best roles. But now, things are not the way it used to be.
The creative industry is gone and is only by the grace of God  the good old days can be restored. Now, 80% of actresses use charms to get movie roles and when you offend them, they will bring confusion on the set so that you fluff  your lines and eventually lose the role. Believe me or not, it is true and this happens mostly in Asaba and Enugu .
Even the marketers are worse because they belong to one secret cult or the other. Even when you are paid for your work you find out that the money won't be useful. The first and second job I did, I noticed that I couldn't give account of how the money was spent.
What I  did was to see my pastor and he prayed and asked me to always pay my tithes and that, I should always pray before spending the money I get from acting jobs. It is so bad that people are desperate to get to the top in the industry. It seems the world is coming to an end," she narrated with a note of bitterness.