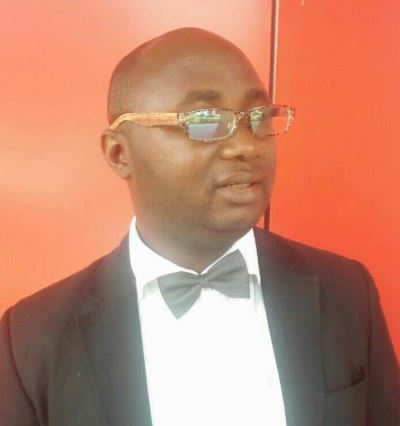 Ariyo Raphael Dare Atoye
A 36 years old former News Agency of Nigeria's correspondent, Ariyo Raphael Dare Atoye, has joined the Ekiti governorship race following the passage of the #NotTooYoungToRun bill by the Senate which has reduced the age bracket for people to contest governorship or presidential positions in Nigeria.
Dare Atoye made his ambition known to newsmen where he said he is contesting the Ekiti governorship slot to bring greater development to Ekiti people especially by bringing dividends of democracy directly to their door steps.
He urged the Ekiti people to tarry behind him to make the state greater, saying, "I have come to urge you to let us prioritise Big Development and not Big Politics; I have come to seek your collective support to let us redefine our state and our path in this nation, so that we can secure our future; I have come to ask you to let us do real soul-searching, interrogate where we are going so that we can salvage our tomorrow. My dear people, I have come to tell you to let us have an abiding faith in God and believe in what He has given us to help ourselves."
"Today, by the abundant Grace and Mercy of the Almighty GOD upon our lives, my team and I have come to diligently seek what we can do, give and selflessly offer to transform Ekiti State and not what we can gain from it or what our dear state can give to us.
I'm motivated and spurred to serve and give my all to our great and unique State, by the noble, selfless and undying spirit of our forefathers who fought very hard to preserve our identity,
I have come to you as a Political Missionary and a Reformist with fresh ideas asking you to let us plant The Next Phase of Ekiti, where our decades of toiling for education and investment in knowledge will translate into concrete development driven by sacrifice and limitless possibilities.
I'm committed to providing new perspectives that will spark a revolution of ideas in Ekiti State and launch us into the next phase of our development where the knowledge and certificates we have acquired all the years will work to solve our problems and create abundant wealth.
My dear people, if knowledge had worked for the Americans, the Europeans, the Indians, the Chinese and even the Asian Tigers, knowledge can work for us to transform Ekiti State through the ingenuity of exceptional ideas into a fountain that solves problems. Nigeria is waiting on Ekiti State to give a firm direction to this nation in terms of how to use Knowledge and Education to drive innovations and developments. The future is not in oil, we must lead our country in creating alternatives.
I have come to ask you to let us put behind us the prejudices of the past; I have come to urge you to let us prioritise Big Development and not Big Politics; I have come to seek your collective support to let us redefine our state and our path in this nation, so that we can secure our future; I have come to ask you to let us do real soul-searching, interrogate where we are going so that we can salvage our tomorrow.
My dear people, I have come to tell you to let us have an abiding faith in God and believe in what He has given us to help ourselves.
There is no longer anything fantastic about being the President of Nigeria, and there is nothing so heartwarming about becoming a governor in Nigeria. If leadership cannot solve problems, it Is worthless and amounts to nothing. It is a shame that our leaders are still making merry in a nation that is wandering aimlessly without focus.
This nation has been badly and thoroughly messed up by the praetorian guards and pleasure-seeking politicians. But our political salvation to good governance lies in sacrificial leadership, moral leadership, ethical leadership and purposeful leadership – the irreducible minimum.
As a people with great spirit and wisdom in Ekiti State, we must give absolute priority to the poor, the needy, the suffering, the excluded, the dejected, and it is in our collective interest that the strong must protect the weak, the rich must sacrifice for the poor and good must defeat evil. The only way we can secure our peace and our future is by creating opportunities for the children of the poor and the have-nots, and by restoring lost pride and glory back to public education. We must never forget our fountains.
As we march towards another governorship election in 2018, I have come to tell you that we shall need more than a governor, if we are going to succeed. The promise of addressing our challenges through Abuja money will never work again and it has since ceased to work effectively. In The Next Phase of Ekiti, we need a generation of wise and purposeful leaders who are driven by selflessness, righteousness and the fear of God. Righteousness exalts a nation.
In 2018, let us elect a purposeful Convener as Governor, one who is wise enough to mobilise the abundant human and knowledge resources that God has deposited in Ekiti people worldwide. I'm prepared to lead this next phase. I don't have the sword of Goliath, but I have the excellent wisdom of David to provide leadership and make Ekiti State to flourish and become the pride of Africa.
We have the people, the knowledge and all that it takes to excel and prosper. But we must work for it. There is no cutting corners to success, we must really work for it.
If given the opportunity to serve my people, the main priority of my team and I shall be to Kickstart the Ekiti Knowledge Valley – a knowledge incubation center for driving development. We shall massively fund research and development, to bring gold out of Agriculture and and knowledge.
We will put Ekiti on a sound footing and on the global map, to become the Harvard and Oxfords of Africa and by selling quality and innovative knowledge to the world. There is nothing that is beyond Ekiti to achieve. Absolutely nothing. We shall gradually build Ekiti into the Massachusetts and knowledge-pot of Africa.
We shall put in place The Ekiti Hall of Fame which shall be strictly to honour innovations, outstanding discoveries and exceptional breakthroughs in sciences and knowledge. We shall tie it to laws that will exclude it from politics and parochialism.
We will honour our heroes and heroines to get the best out of our people and our land. We shall purposefully explore the endless possibilities of knowledge and ideas. We will do everything through the abiding strength of God to prosper.
I am ready to toil, sweat and and offer everything, including paying the supreme sacrifice for our land to succeed. Genuine leadership is sacrifice and that is the only thing I have come to offer my people. We must strive to be an integral part of the world cutting edge in advanced developmental education and hi-tech farming. We must transform farming from being a producer of raw materials to being a manufacturer of finished goods. Ekiti must provide leadership to unlock the massive potentials in Nigeria.
I also want o prepare Ekiti for the danger that is coming to affect this nation; except we act urgently to reduce it or take a purposeful advantage of it. In less than 25 years from now, the population of Nigeria is projected to hit 500 millions.
It will be catastrophic with the current infrastructures and total dependent on the dying oil money. The onus is however on us in Ekiti to think of how to positively take the advantage of Nigeria's rising population as a market opportunity, in order to market our ideas and sell our products- Made in Ekiti.
We in Ekiti must be prepared for an inevitable trend in migration- the reversal of Rural-Urban migration. A good number of our people live in slums in Lagos, while insecurity threatens many more in different parts of the country. We must be prepared for the phenomenon of Urban to Rural migration very soon, because I see many people returning to our lands to settle down very soon. It is going to happen, but we can turn this into gains if we act appropriately, quickly and apply wisdom.
Ekiti has been very lucky surviving this very difficult period, because of our resilience, hardworking posture and a tough understanding between the workers and the government. However, I wish to state that we are gradually approaching a breaking point that will be difficult to manage going forward, because of our over reliance on federal allocations from oil receipts.
This is however beyond blaming anyone. Our false federalism has led us this dangerous path. But we can not continue to agonise or find faults; we must collectively confront our ordeals and overcome our difficulties.
The Next Phase of Ekiti is bigger than my ambition or the ambition of anyone. It is a journey that is beyond us, but we must collectively sail together. We will not be deterred by pessimists and detractors, because we are not afraid to try, fail and succeed. In truth, the major reason we have come to serve is because we have failed as a nation – Nigeria is down and so we fear no fall.
We are not in hot pursuit of the vanity of this world, we are firmly here to confront and overcome challenges. The history, we will not allow the younger ones, and the coming generations to have or record for us, is: "They did nothing to solve problems."
Let us remember this day:
On this day July 29, my team and I, remember the precious sacrifice of a great leader, a great patriot and a soldier of soldiers – Lt. Col. Francis Adekunle Fajuyi, the first military governor of Western Region who died and offered his sacrificial blood to preserve the unity of this nation.
He was a profound hero, a brilliant military officer, a winner and an exceptional leader with an uncommon courage. In his honour and memories, I have inaugurated the Fajuyi Competitive Educational Awards scheme for pupils of St. Georges' Primary School, Ado Ekiti. Yesterday July 28, 2017, the first beneficiary was awarded. It shall be an annual scheme for the best three pupils of the school.
I have also instituted another Competitive Educational Awards scheme for pupils of St. Thomas Primary School, Igbara-Odo Ekiti in honour of our departed leader – The Senior General, Pa Adeyinka Adebayo. On July 27, 2018, the first set of beneficiaries were awarded. All these have come to complement my strive to fight for public education in Ekiti State. For seven years running I have been giving scholarship awards to three pupils yearly at St. James Primary School, Igbara-Odo Ekiti.
Know me:
My name is Ariyo Raphael Dare Atoye. I am married to Abiola Atoye and blessed with two boys – Pelumi and Ibukun. I am from Igbara-Odo Ekiti in Ekiti South-West Local government. I was born on March 24, 1981 to the family of Chief and Mrs. Clement Atoye. I owned a Master Degree from the University of Lagos and a Bachelor Degree from the Ahmadu Bello University, Zaria, both in Mass Communication.
I am a trained Journalist, a development worker and a political activist. I previously worked with the News Agency of Nigeria in Abeokuta and Lagos, Africa Leadership Forum in Ota, Management Sciences for Health, Abuja (headquarters in Boston, USA) and the Nigerian Institute of Mining and Geosciences, Jos. I consult currently as a Knowledge Management and Media Expert.
I am a reformist and a political missionary. I have lived a life of purpose and honour all my entire life working selflessly for communities and the people. I have come to this world to serve humanity in appreciation of God, who created me.
The fear of God is in me. Honesty and Integrity I value greatly – I once returned money paid erroneously into my account by the News Agency of Nigeria, back to the federal government, after I had resigned . I give back to my people through community service and yearly scholarship programmes in the last seven years.
The Grace of upon me has helped me to extend my selflessness to different part of the country. In all, I can boldly say everything has been made possible through the Mercy of GOD that strengthens me. I want to serve my people and my community for the rest of life. I have something different to offer Ekiti people. We can do it.