…Urhobo must have say in producing Delta governor
…Speaks on Biafra, Urhobo stand on restructuring
By Emmanuel Aziken, Political Editor
Business mogul, Olorogun Moses Taiga, is the President General of Urhobo Progress Union (UPU) Worldwide, unarguably, the umbrella socio-culturalorganisation for all Urhobo groups.
Taiga in an interview speaks on the position of the Urhobo in contemporary Nigeria and particularly in Delta State saying that the ethnic group must take its pride of place in the country and in Delta State. He also gives the Urhobo perspective on the clamour for restructuring and insinuations of Urhobo land being part of the territory being championed by Biafra secessionists.
Excerpts:
Is it true that the UPU is factionalised given claims by Chief Joe Omene?
Chief Joe Omene's tenure expired in the middle of December 2016. An election was held, supervised by members of the Board of Trustees (BoT) of UPU. The Constitution provides that whenever there is a crisis, then the BoT steps in.
The BoT conducted an election where more than 13 of the 24 traditional rulers of Urhobo land, all the president-generals of all the kingdoms were present. So, it was a properly conducted election into all offices, in accordance with the Constitution.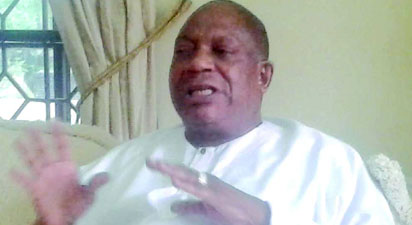 There is no issue of crisis or factions in Urhobo.
Omene served his tenure, and he has left, and the entire Urhobo nation has told him so. The report that there are sections or factions is amazing to us. There is only one indefatigable properly constituted authority, which is the UPU led by my humble self, Olorogun Moses Taiga.
But Omene says he is UPU president general?
We are open to Omene to come to us so that we can reconcile him with the kings. You can confer upon yourself all titles, which you do not deserve, the truth is we want all Urhobo to be united, and the door is open for Omene to return and take his rightful place as ex-president general of UPU.
Was there any political motif for the crisis?
There is no crisis in UPU
Or were there politicians involved in the crisis?
I wouldn't know, but we campaigned legitimately. I went round the 24 kingdoms, visited the kings, the presidents and the youths in each kingdom. We were not in any way influenced by any political party.
There are two leading political parties in Delta State, the All Progressives Congress (APC) and Peoples Democratic Party (PDP) but none of them influenced us. Moses Taiga is beyond reproach in politics.
I am not a politician. I told my executive at the inaugural meeting that they should hang their political opinions outside whenever they are coming for UPU meetings. This is Urhobo government, let us discuss Urhobo affairs, and when we finish you can go out and put on your political garment. I don't stop people from playing their politics, but when we come to discuss Urhobo affairs, there should be no political leaning.
I welcome all, politicians and non-politicians, and that's the reason we are very careful where there is a political association or meeting, and we are invited, we do not go.
What are your priorities as UPU President General?
Majority of us came from the private sector, and we went round all the kingdoms and enunciated our manifesto.
First, we want to honour the second President General of UPU, Chief Mukoro Mowoe, who led the association from 1931 right through to 1948 before his death by setting up the Mukoro Mowoe University. It is something that is very exciting to the Urhobo people, and it's amazing that the 24 kingdoms of Urhobo are demanding that the institution should be sited in their location.
We already approached Uvwiamughe people in Agbarhe, and they have given us an additional 36 hectares of land to add to what was there in 2005. There are many other communities in Urhobo land that have shown interest. We have appointed a Senior Special Adviser on Education, Prof. S. W. E. Ibodje and we are going to get him to start the process of the formation of the university.
To tell you what we intended to do in the university, we want to get specific well to do Urhobo personalities to take each of the faculties in the university.
The second project, and what is most important to the Urhobo and for which we are known for, is the Urhobo College. We were unique in the whole country in setting up an institution named after our nation. No other tribe in Nigeria has done that.
I sent delegates to go and examine the current state of the college; what they saw was an eyesore. That old school that produced eminent Urhobo people, including myself has gone down the dock. It produced people like the Orodje of Okpe, but today the college is opposite of what it used to be in the past.
This is a school that produced eminent engineers, but it has lost its glory. We want to renovate it, and we are happy to hear that the government is also planning to make it a model school. We are going to get in touch with the government to know the stage the government intends to develop it so that we can up it beyond that.
We will get the best of teachers and others to work in the college. This is the second item on our manifesto.
The third item; a friend of mine visited the Warri Shoprite, and he stood there looking out, he could see all sorts of technicians and electricians from Ghana, Togo, and other West African countries working but our boys were carrying loads. This is painful. Those that have something to do were driving Keke Napep outside the complex.
We would like our children to learn technical trade, and there are two technical schools in Urhobo land at present. We have the Ugbo Technical College in Ugbo; there is another center of learning where people learn carpentry; we are getting in touch with the government to renovate these schools so that our children can go there to learn a trade. Everybody cannot go to the university. These colleges would enable our children to go for training either for six months, two years and so on, get their certificate and come out to work for themselves. That is the third item that we want to do.
The fourth item; we discovered that our women are very hardworking and it is necessary to train them. You will agree with me that  Atamu  is a good philosophy, which is, do what you want to do and do it well.' We want to set up a micro finance bank for Urhobo women where they can borrow money and also pay back because that is the Atamu concept.
Our aim is to make our women a good example to the men, to say that our women are doing well. We have already appointed a famous banker, Dr. Abudu, former General Manager at First Bank who was also managing director of the Delta Investment Corporation, to do a study on the micro finance bank.
We are also interested in Urhobo language, and the women wing of UPU have taken it up, and they have got somebody like Prof. Rose Aziza, of Delta State University, first to see how the government would put Urhobo language as a study item in our schools. Secondly, to teach our little children, when they are on holidays how to speak Urhobo.
We have this Urhobo Cultural Center at 18 Okere Road Warri, which our neighbours are jealous of but it is not being effectively used.    During the summer holiday, our little children would go there to learn Urhobo language in its simplicity. One of our women, Mrs. James Akpere is already spearheading that league.
The final issue we are interested in is that we want to teach respect for our elders.
Take, for instance, a Yoruba boy who lives in Lagos, weekend, he will go to his village and take a bottle of drink. As he arrives in his town, he will go to the king's palace and say my royal highness I am here, if you need me for anything I will be available for you and when he is going back on Sunday, he will also go back to the king to say I am travelling please pray for me. Our children don't know how to respect our kings and by extension respect our elders.
So we want to imbibe it in our younger generation that it is not just wealth that matters, but we should learn the culture of respecting our elders.
This is our agenda. During the election, each of us that contested was called upon to state what we intended to do for the Urhobo nation and these are what I promised to each kingdom as we went.
I also promised the kings and the president-generals that every quarter, I will give account of where we are.
When the Urhobo Social Club did its inauguration, we presented a paper stating where we are and we also sent a copy of our stewardship accountability to members of Urhobo UPU America that that this is where we are, and every quarter we would mention where we are to the press.
Are you also mobilising the people to demand accountability from your political representatives in the National and State assemblies?
We want to be able to go to Asaba and talk to the Urhobo representatives in the State House of Assembly. We want to go to Abuja to talk to the senator and members of the House of Representatives and other recognised Urhobo dignitaries in Abuja. We are going to present our agenda to them and also demand to have their agenda because if we know the programme of each other it is, then we can work together for the progress and development of the Urhobo Nation.
Are you happy with the quality of the Urhobo representation in politics both at the state and the federal level?
Nobody who is an Urhobo man should be happy with the state of affairs where we are in the nation. We are not recognised in Abuja, and we are not well recognised at the state level. It is not by just being given little things that are sufficient for us; the truth is that mistakes have been made in the past and my position is that we should wait. It will come to our turn again. It is very difficult for us today to mobilise the people overnight and say here we are.
There was story the late Gen. Patrick Aziza told me that when he led eminent Urhobo personalities to meet with the Arewa Forum in Kaduna.
According to Aziza, when they started introducing one another, the Arewa people introduced themselves stating the federal positions which each of them had held and are still holding in the country, but when it came to our turn, in the whole of the delegation of eminent Urhobo personalities, none of them, except Aziza had ever held any federal position.
The late army general told me he buried his head in shame.
I think that is the whole concept of the Urhobo problem. We have moved from the centre to the left. So if we want to move to the centre, we have to climb from the right. That's what I think we need to do and if we have awareness of who we are, let us be united so that we can move from the left to our rightful position. What I mean by left is we are bent in a particular direction, but we can then gradually move to the centre.
Of course, our politicians created these problems. The issue is why would my nephew or my niece be special adviser, obtain a car, which he is driving about but the day whoever gave him that position leaves office, he won't be able to afford to feed himself, not to talk of buying petrol to run the car.    He is not even supposed to take the car in the first place. The person that gave the position and the car should have shown him the means of livelihood.
We understand that majority of the people who were offered political appointments but without a solid means of livelihood are the ones that resolved to all manner of crimes like kidnapping after leaving office. They had no means of sustaining the artificial living that politics exposed them to. To answer the question, no Urhobo man is happy over the decline of the Urhobo Nation. We have declined.
There was a time when the well to do in Warri, the Odibos, and the Edewors were all in Warri. But what's happening there today? Shell moved out of Warri, and the economy is down. You go to Ughelli and what do you see? Just petty trading!
There are no more employers of labours, who regularly pay at the end of the month. So whether it is in government or politics, the Urhobo nation is decadent and it needs to wake up. We are not satisfied with the level we are.
Can you say the past Urhobo leaders like Chief Mukoro Mowoe and others did better than the present generation of leaders?
It is not only Mukoro Mowoe; there were Salubi,    Esiri and others for example. I just take Mukoro Mowoe as an example. The people from northern Urhobo, Jesse, and Mosogar were part of Edo. The people from Abraka were part of Obiaruku who were part of the Kwale area, and plebiscite was held due to the pressure of Mukoro Mowoe that these were Urhobo people.
We need people that would fight for the cause of the Urhobo Nation. What I said, even before my campaigns and people say I shouldn't say it, was that we have 24 kingdoms and very soon it will become 30 or 60 but what do we need these kingdoms for?
It is not the number of kingdoms that we create that matters but the efficacy of the existing ones to survive on their own and generate businesses for our people to work.
For example, the place that I come from was the business center of Urhobo, where we have UAC, John Holt, CFAO in those days. These foreign companies would bring kerosene, food and others items in exchange for our palm kernel, rubber, and cocoa but where are those things today? How many cocoa farms or palm kernel farms do we have in the whole of Urhobo land at present?
I remember when I was in the secondary school, I will go and tap my father's rubber and we would share the money, but indirectly I didn't know I was working for my school fees. I was producing rubber for my father, but how many of us can do that today? We want to drive cars, we want to associate with politicians who are in Asaba or Abuja, and they will give us car, but that is not employment.
Go to Warri where we used to have a factory that produced palm kernel oil; it is closed down. In those days those were the types of businesses that were generating employment, and they brought orderliness because people woke up in the morning and went to work. But as we speak there is no orderliness in Urhobo land right now.
Having mentioned the limitations and challenges of the Urhobo Nation what is your position on restructuring?
The position of the Urhobo Nation is common with the 16-point agenda of the South-South leaders, which was re-enunciated two weeks ago at Chief Horsfall's residence in Lagos; that is we are calling for restructuring in accordance with the Independence Constitution, which was based on true federalism.
Every region developed at its pace and also controlled the resources within its territory and contributed to the centre. But when the military came, they distorted the structure in accordance with the military command structure of centralised order through the Decree promulgated by Gen. Aguyi Ironsi.
Everything was centralised, and in return, the regions were given handouts. It was only recently that we fought to get the 13 per cent derivation.
What the elders projected was that the states as they are should be independent and control their resources. We just have to review the concurrent and exclusive lists.
In the first instance, why should a state government be involved in building and running of secondary schools and why should the federal government be involved in federal secondary schools? Why is the Federal Government competing with the local government? There is the need to have a true federal structure. We need to go back to where we were before 1960; the Independent Constitution given to us by our founding fathers. That is the Urhobo stand. The issue of whether we would become an independent nation is irrelevant.
The issue is that Urhobo nation is calling for true federalism.
I have an addition to that; I do not agree with rotation of position of power, vote should be in accordance with population. For instance, it is wrong to ignore Urhobo in deciding who becomes the governor of Delta State. Can you go to Benue and tell the Tiv people that you want to rotate the governorship position without consulting? They have to be part of it ibecause they have the numbers. You will not have peace if you don't.
Cuts in… it's a contest sir?
In contest the largest population wins
It is the person that is able to muster the highest vote like in Delta because there was an election?
No. There was allocation to a certain area where the candidate is selected before election takes place. But I want you to tell me if you can do that in Tiv area, where a Tiv man is deprived of producing the governor because it is the turn of Otukpo people.
I think that is clear in my opinion. It is very clear that we are a force to be reckoned with and whether we are 62 per cent of the population as we were at a time, or we are 38 per cent as we are now that is still the majority leading population in the state. We cannot ignore the leading population in any state.
The issue is we should endeavour to put ourselves in a position where the Urhobo nation is recognised and negotiate with whoever is coming out for the governorship position. Now the governor has been taken from the South to North, and it will return to the Central. It must be done with be concurrence and happy support of the Urhobo nation and not in spite of the nation.
The key issue is do we want to be recognised and that it must be done with our concurrence and not in connivance. One of the issues that the leadership of Urhobo, including me should avoid is the desire for wealth.
The Urhobo people are very easy to please. If you are seen to be steady and firm on principle, and you are not partial in whatever you do, you will earn their respect. You must be beyond reproach in everything you do.
We who claimed to be leaders should be beyond reproach. If the politicians know that you are not buyable, you are not purchasable they will go to all the people to engage them to support you.
For me, I just do not believe in being there to be bought over. I am not a commodity to be purchased. I am not buyable, if you call me for an open meeting, I will be there but for if you call me for a private meeting and say you want to see me in the bedroom; I will say I am sorry I cannot.
What I am saying is if you are not purchasable and people know you for that, and you teach those around you not to let themselves to be purchasable, and you are bold enough to rebuke them if they do anything that goes against the principle that would serve as a good example to the rest of all.
We need to show example and teach our people that it is our birthright that we are selling if we are purchasable. I do not intend to operate that way.
Recently someone in the Southeast said Urhobo land and all of Delta are part of Biafra and nothing was heard from you?
I take the position of the Southern Leaders Forum that some of those statements are for negotiations. We the Urhobo Nation know we are not even neighbours to some of those people who said we are part of them. We have the Ijaw to the west, we have the Edo to the north, and we have the Anioma to the northeast, so there is nothing that binds us. There is no correlation between us, and we also have the natural River Niger that separates us there is, therefore, no case in that.
The issue is does somebody draw an artificial map and say Edo and Delta are part of his own.
The Youngman, Nnamdi Kanu lives in England and makes all sorts of claims. The Southern Leaders Forum said any attack on any party of the South is an attack against the whole South, so we do not intend to select any nation in the whole of the South for special attack.
We are not part of any other kingdom; we are the fourth largest nation in the country, and we've not fought hard enough to secure our rightful place, but our job is to try to articulate our position and ensure that we are due for recognition.
It is unfortunate that everybody fights to get the capital once a state is created because that is a sort of wealth and development. The capital is always meant for creation of industries and various other things, which make people fight for it to be located in their area. For instance, look at what Asaba was yesterday and what it is today.
One of the things we want to encourage our people is to go to the Civil Service. I asked one of my Assistant President Generals to list the names of all our children in the civil service both federal and state. I learn that strategy from Chief Uduaghan when he became the Registrar of the University of Benin, he went round the world to meet all Urhobo students that were doing Masters Degree and above in foreign universities, took their names and addresses and also gave them his contact.
He told them there is now a university at home therefore if they finish they should return home to lecture there. I also want to compile a list of how many Urhobo are in the civil service both at the federal and state levels and their rankings.
Why are they (Urhobo) not permanent secretaries in federal ministries and what are the criteria of attaining the position of PS? If we get these facts, we can now make a case. But that can only be achieved if only we have our facts. We want to encourage our children to go to the Civil Service and also ensure they move up the ladder.
You were not known to be much involved in community activities as a businessman. How are you fitting in now as the President General of UPU?
It is not right to say that I was not involved in community service. I have been president general of Olumu Community in the last 20 years, and I have been doing things in my community. I have a business in which is the oldest and biggest marine business in Nigeria; it is called the Niger Benue Transport. It has been there since 1948.
I have experience in running Urhobo affairs.
The Urhobo nation has asked me for the past 20 years to become president general, and I was refusing, but this last time they didn't come to me but went to the Urhobo Historical Society and begged them to beg me to accept the position. That was why my first point of call was to go to Urhobo Social club because they were the first people that launched me.
I thought to myself that I was getting old and when I woke up one day and decided to build a church for my community. I built the reverend father's house first and later built the church. There was a time I was to set up a university and even arranged with Michigan Central University in Washington. We set up an office in Warri.
We went to the National University Commission (NUC), and I appointed one Dr. Kragher as administrator, who is now lecturing in FUPRE. We also appointed a woman to do the survey, but my community said to me one day that I wanted to take over their land, so they drove us away. Now they are begging me to come back.
The university we proposed was called Enterprise University, everything was set up, in fact, the professor from Michigan Central University said they wanted to write a book on how to establish a private university in Africa, but the whole set up was abandoned.
Are you bothered about what is happening in the enlarged Ibru family and are you trying to mediate?
When you are intervening in issues like that it is best not to read it on the pages of the media. It is not nice for us to compound the matter. You will begin to see that the story is getting out of the press. Ibru is so important to all of us. I remember in those days when anybody came from home to Lagos, the first point of call to work was Ibru organisation. You will also note that whenever any Urhobo person is doing something, he (Ibru) would show up. We will not sit idle and allow his name to be dragged through the mud. The best is not to discuss such matter in the media.
I think the best is how do we immortalize our past heroes.