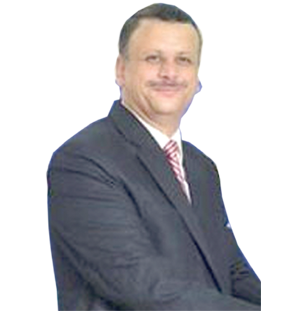 •Sanjay
There's always the belief that business managers are capitalists who think more of their businesses than they do to the market they are operating in. But Head of Business Operations, International Education Business, Emerging Markets, NIIT Ltd in an interview with Hi-TECH, said it should rather be the other way round. He contended that relevant companies operating in Nigeria should not think of only return on investment but help in building successful careers in the country.
By Rotimi Agbana
What is your opinion of the state of Nigeria's IT sector?
In 2014 Nigeria became Africa's largest economy and is projected to become a global economic powerhouse in future. Increasingly, Nigeria is becoming a centre for big tech investment and commercially oriented start-ups. Whatever the country's challenges, investors and entrepreneurs are attracted by the prospect of scaling applications to Africa's largest population and economy.
According to industry sources, IT industry in Nigeria is estimated to be among the fastest growing IT industries in the world. Nigeria's tech sector is becoming representative of repatriate entrepreneurs reversing some of Africa's brain drain and IT reshaping the continent's global linkages. All three of Africa's most recognized e-commerce start-ups – Jumia, Konga and  MallforAfrica  were founded by Nigerians who earned their university degrees and initial private sector experience in the US.
In your estimation, what is the future of Nigerian students in the IT sector?
In the contemporary world, data is the new oil as the world's biggest companies were technology-driven.
Cloud computing
Nigeria has become Africa's largest ICT with sectors like e-commerce and cloud computing and witnessing huge growth. These are indicative of the fact that students trained in futuristic IT programmes can meaningfully contribute to the growth of the country and thus carve a successful career for themselves.
What role is NIIT playing in making futuristic IT programs available in Nigeria?   
NIIT, a global leader in skills & talent development, established its presence in Nigeria by setting up an education centre in Lagos in 1999 and since then we have affirmed our support to prepare the youth in the country for lucrative IT careers. To this end, NIIT started a scholarship programme in the country to reward meritorious students desirous of building successful careers in today's knowledge economy. This is NIIT's initiative to enhance employability of commendable students to meet the industry needs of the country.
More than 100,000 students have benefitted from the scholarship so far. Since its inception, NIIT has been involved in creation of skilled ICT workforce and has launched several initiatives in the country.
NIIT has now extended its scholarship programme to  futuristic programmes in Digital Transformation under the digiNxt series  like digiNxt MMS, Big Data, Java Enterprises Apps with DevOps, Digital Marketing, Oracle, CISCO, Android and other programmes. These programmes have been introduced by NIIT with a profound understanding of the changing workforce requirement of the Global and Nigerian ICT industry.
What problems do these programmes solve?
The programmes will include the elements like digiNxt MMS, an Intensive one to 2½ year  programme aimed at building talent pool of software engineers aligned to the Digital Transformation requirements of the industry. DigiNxt-Big Data:  Big data is high volume, high velocity information to process and enable enhanced decision making. It consists of Hadoop, Zookeeper, Hbase, Hive, Storm Distributed Live Computing and Sqoop. DigiNxt-Java Enterprise Apps with Dev Ops:
The programme will encompass the various aspects of enterprise app development while enabling a learner to implement these aspects through project-based learning methodology. digiNxt-Digital Marketing: The programme is designed to help the students understand how to plan, implement and manage comprehensive Digital Marketing strategy.
In today's competitive environment how do you think young people seeking a successful career can navigate?
Today, information technology has changed the way people work and the next ten years will be about transforming the businesses across all industry sectors to embrace the digital era. Therefore, it is very important for students and young professionals to equip themselves with the skill-sets aligned to the requirement of the fast-evolving IT industry.  The scholarship is an integral part of NIIT's commitment to encourage meritorious students of the country to build a successful career in IT.
We are now pleased to introduce new age courses to offer multiple career options to the students in today's digital economy.  With an aim to create empowered workforce for the Nigerian IT industry, NIIT offers various other programs to the students in Nigeria. The revolutionary mastermind series comprises of Software Engineering and Infrastructure Management courses. While the Software Engineering course will expose the student to technologies like Java 7, Visual Studio, SQL Server, ASP.net, MVC 4.5, HTML 5, JQuery, Java Script, the Infrastructure Management course will enable students to learn Windows Server , Microsoft SQL Server and Microsoft Share Point 2013.