Abuja – President of Nigeria Football Federation (NFF), Amaju Pinnick, on Monday in Abuja inaugurated a 12-member Local Organising Committee (LOC) for the 2017 NFF/ Aieto Federation Cup.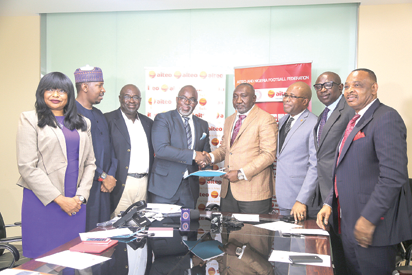 Inaugurating the committee, Pinnick revealed that the present NFF board would leave no stone unturned to have a competition which would be a better replacement for the Federation Cup.
The NFF/Aieto Federation Cup is replacing the Federation Cup, which the NFF introduced in 2009 to replace the former FA Cup or Challenge Cup.
"We all know what happened last week in Lagos when NFF announced the partnership with Aieto Company, a partnership that includes the sponsorship of the Federation Cup, now `Aieto Cup'.
"Based on the agreement with the company to form a committee that will give us a very befitting grand finale for both the male and female competitions, we have decided to put in the best hands we have in the federation towards a smooth and best 2017 Aieto Cup.
"We want to see the best competition for the male and female categories, especially now that the prize money for the Aieto Cup will be N25 million for the winners of the men's competition.
"Winners in the female category will win N10 million also.
"The runners-up for the men's competition will get N10 million, while the runners-up for the women's event will go home with N5 million,'' he said.
Seyi Akinwumi, Chairman of the 2017 NFF/Aieto Cup Federation Committee, expressed the readiness of the committee's members for a smooth and well-organised competition.
He however sought the support of every stakeholder for the success of the competition.
"I want to thank the NFF board for the task given to us. We will bring some innovation to the game. Discussions about that are ongoing. Also, the media will have a very crucial job to do.
"Not only that, we are going to have different dates for the male and female final matches, unlike what we used to have before.
"I am seeking the support of every stakeholder because we cannot do it alone.
"I am not saying that we will be perfect, but perfection is our goal. We want to move forward to a new glory,'' he said.
Other members of the committee are: Shehu Dikko, Ibrahim Musa, Ibrahim Gusau, Shariff Inuwa, Aisha Falode, Suleiman Kwande, Ahmed Fresh and Mohammed Sanusi, who will serve as secretary.
Two representatives from Aieto and a legal Adviser would also serve in the committee