By Etop Ekanem
Area Controller of Customs, Kirikiri Lighter Terminal, Deputy Comptroller Fika D. A. has said  Nigeria Export Trade Hub, NETH, project will redefine export business in Nigeria and sub-Sahara Africa, thereby putting Nigeria as a lead country in export trade at international scene.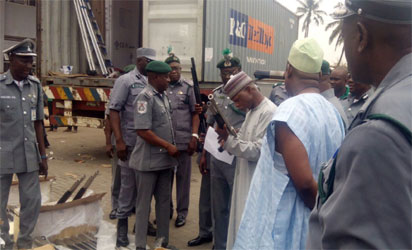 He stated this during NETH stakeholders' meeting and facility tour at Trade Fair Complex, Lagos.
According Fika,NETH was conceived out of a desire to drive, promote and facilitate export, thereby boosting Nigeria foreign exchange earning and transform our international trade imbalance.
He said: "The Nigeria Export Trade Hub is a one stop that will create a synergy for all  public sector regulatory agencies, private sector stakeholder and potential exporters to export trade facilities through and e-export business platform.
"The Aulic Bonded Terminal, which is under the jurisdiction of the KLT Customs Command and the project site for this laudable project will in no small measure create an opportunity for investors to facilitate export trade, which will, indeed, reposition the economic fortune of this country.
"It will interest you to know that KLT Command is ready for export, Aulic terminal is ready for export. I want to use this opportunity to appeal to all export stakeholders, captains of industry, business men and professionals that Aulic Bonded Terminal means case of doing business."
Prof. Nick Ezeh, Chief Executive Officer of Aulic Container Bonded Terminal, who doubles as the Chairman of the Infrastructure and Business Committee of NETH, earlier in his opening speech said in 2010, the license for the operation of Bonded Terminal was approved by the Nigeria Customs Service and that commenced the working cooperation between Nigeria Customs Service and the group and a committee was set up between the two bodies to establish what we called Nigeria Export Trade Hub.
He said: "Nigeria Export Trade Hub is a place specifically established to fast track the business of exportation in Nigeria. You all know that Federal Government has muted the idea of diversifying Nigerian economy. The Federal Government has started the campaign of promoting and encouraging Nigerians to embrace agriculture, which the end products will require exportation and we believe that diversification would be difficult without something like this."
Subscribe for latest Videos