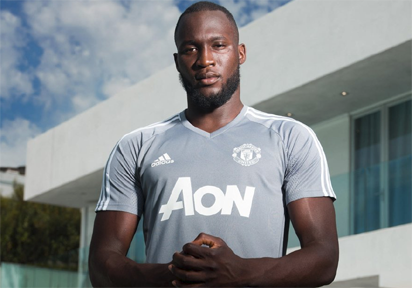 Lukaku
Jose Mourinho said on Friday Romelu Lukaku will be expected to deliver goals as the striker prepares to make his Manchester United debut.
Lukaku, who completed his 75 million pound ($97 million, 85.5m euro) transfer to Old Trafford on Monday, could make his first appearance in a United shirt in Saturday's US tour match against the Los Angeles Galaxy.
The 24-year-old's arrival at United reflects the club's difficulties in front of goal last season, when they were often unable to convert dominant performances into wins, drawing more games — 15 — than any other team in the league.
Asked what he expected Lukaku to bring to United, Mourinho replied: "What will he bring us? Hopefully goals."
Lukaku's signing gives United an authentic target man, the sort of out-and-out striker Mourinho believed the squad lacked last term.
"(Lukaku)'s the kind of player that everybody knows that he's a striker," Mourinho said. "We are not speaking about a multifunctional player or a player that you can adapt, or we can create doubts about positions on the pitch. He's a striker.
"So normally strikers they score goals and the reason he's so important and he was difficult to get is exactly what he did in the Premier League."
– 'The right moment' –
Mourinho said Lukaku had been targeted because of his proven track record of scoring in the Premier League during spells with Everton and West Bromwich Albion.
"Obviously there are other good strikers in football but the Premier League is a very specific habitat and a difficult habitat for strikers," Mourinho said.
"Normally they need some time to adapt. And Lukaku plays in the Premier League for the last four or five seasons. I think he comes at the right moment of his career because he's still a young player but he has years of experience in the Premier League also with the Belgian national team."
Mourinho agreed that he hoped Lukaku would help the team turn draws into wins.
"Let's try," he said. "He's not a player that participates a lot in the build up. He's a player that normally plays in the last third.
"We had many opponents especially at Old Trafford that decided clearly to defend in their defensive third, closing spaces, playing with lots of defensive midfield players.
"I think especially in the Premier League we need a target man which is not (Anthony) Martial or (Marcus) Rashford. We have good options. Good players.
"But target man, a clear No.9 , the one that is comfortable to play in the box, with his back to the defenisve line? We thought Romelu would be a very good option for us."
Mourinho meanwhile said he had played little role in the transfer negotiations, phoning the player only to assure him he would be an integral part of his plans.
"The only thing I did was to call him when the situation was almost there just to guarantee him that he would be an important player in my team," Mourinho said.
The United boss also insisted he enjoyed a strong relationship with Lukaku despite reported tensions between the two during an earlier spell at Chelsea.
Mourinho had questioned Lukaku's "mentality" during their time at Stamford Bridge but on Friday said the two had remained on good terms.
"During that time where I was at Chelsea and at Man Utd and he was at Everton, our relationship was always very close," Mourinho said.
"The relationship was always very good. He's intelligent, he's polite. There was good feeling. And now we are back in different moments of his career and my career, in different circumstances. And I've no doubt that it's going to work."