By Dirisu Yakubu
ABUJA-Minister of Women Affairs, Senators Aisha Jummai Alhassan has called on the leadership of political parties in the country to give more slots to women to enable them participate in partisan politics and governance in the country.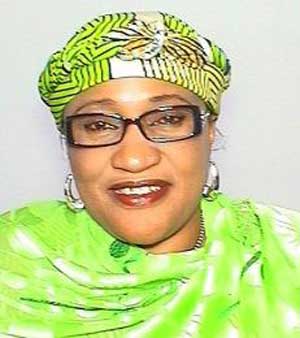 The Minister stated this when she led some women societies on a courtesy visit to the Peoples Democratic Party National Caretaker Committee Chairman, Senator Ahmed Makarfi at the party temporal secretariat yesterday in Abuja.
"From the lowest, all the way to the highest, women have often been underrepresented in leadership positions and decision making and are only sought after as electorate during electioneering campaigns.
This sad reality of women being under represented in all facet of the political process is often due to social-cultural barriers, leading to poor public, social and political party support," the Minister stated, even as she enumerated other factors that have contributed in the limitation of the political space for women in the country.
She said: "Entrenched traditional views, lack of financial means, lack of capacity building opportunities especially access to technology, gender discrimination, divisions along ethnic lines, violence and intimidation have all contributed in poor performance of women in political activities especially elections.
"Although the Nigerian Constitution guarantees equality for everyone in governance and political participation, women have not fully enjoined this constitutional provision. Globally, Nigeria remains one of the most backward and poor performing countries on the African continent in the area of women political participation.
As a result, we have been overtaken by countries like Rwanda with 66 per cent women representation in parliament, South Africa with 40 per cent, Seychelles with over 50 per cent, Ghana with 35 per cent and a large chunk of other African countries with over 25 per cent. Unfortunately, Your Excellencies, Nigerian stands at less than 6 per cent," she lamented.
Responding on behalf of the party leadership, Senator Makarfi thanked the Honorable Minister and her delegation for the visit and pledged the commitment of the PDP to partner with her in the advocacy for more women participation.
Makarfi however, urged the Minister to also take the advocacy to the parliament for possible amendment of existing laws and making of new ones to create more rooms for women.
"You are here on a courtesy call on a very fundamental issue-that of bringing some parity in gender participation by our mothers and sisters in governance…You are doing this at a very good time. Some matters are not just matters of policy but matters of constitution," he said.
She advised the Minister not to stop at demanding for free nomination forms for women for elective positions insisting that free form without a ticket is as good as useless.
The former Kaduna State governor later displayed his humorous side by christening the Minister fondly referred to as 'Mama Taraba' the "Mama Nigeria.'
Present at the meeting were stalwarts of the party including Senators Abdul Ningi, Ben Obi, Iyiola Omisore, Odion Ugbesi, and Prince Dayo Adeyeye.