…Says state had an average ambition before his coming
BY CHARLES KUMOLU
ANAMBRA State governor, Chief Willie Obiano has said that without the determination of his team, the state would not have become Nigeria's fourth largest economy, noting that he inherited a state with an average ambition.
He also stated that through strategic refocusing, the state had been positioned as one with the greatest chances of producing the most surprising development results in the next five years.
Obiano, who said this in Lagos at a breakfast meeting entitled: Investment Promotion and Protection: The Anambra State Experience, Challenges, and Opportunities, said that coming up with an antidote to crime ensured that he achieved results in Anambra.
The forum was an opportunity for the governor, who was represented by his deputy, Dr. Nkem Okonkwo to present his score card in key areas of governance.
His words: "In the past three years and four months that I have served my people as governor, nothing has given as much joy as talking about Anambra. My fascination with Anambra does not come from the fact that I am the governor of that great state.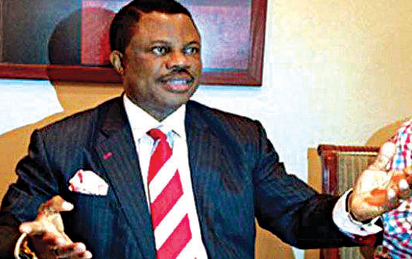 No! My interest in Anambra comes from my belief that Anambra represents Nigeria's biggest hope at the moment. Indeed, I have absolutely no doubt that any objective assessment of all the 36 states of the federation would put Anambra as the state that has the greatest chances of producing the most surprising development results in the next five years. This is not a rhetorical statement. Our fundamentals point in that direction.
"When I assumed office with my Team on March 17, 2014, we inherited a relatively stable state. We took over a state with an impressive network of roads and good fundamentals in education and health care but we also inherited a state that had no landmark infrastructure and no clear-cut strategic vision for the future. And perhaps more importantly, we met a state that was heavily traumatized by violent armed robbery, kidnapping, child-trafficking and growing cases of drug-related crimes.
I came prepared
''This crime-ridden scenario discouraged investments and successfully cut off the state from the grid of modern development. Ladies and gentlemen, my Team and I inherited a state with an average ambition but through a strategic re-focusing and a commitment to excellence, we have repositioned Anambra among Nigeria's leading states today!
"I came prepared. I assumed office with clearly defined vision and mission. I said that my vision is to make Anambra State the first choice investment destination and a hub for industrialization and commercial activities. Similarly, I also declared that my mission is to make Anambra State a socially stable, business friendly environment that would attract both indigenes and foreigners to seek wealth-creating opportunities.
"We also came with an economic blueprint known as the four pillars of development which seek to accelerate Anambra's economic advancement through Agriculture, Industrialization, Trade and Commerce and Oil and Gas. Armed with a clear vision and mission and a realistic economic blueprint we had our job cut out for us.
Immediate antidote to crime
"While we worked on our vision and mission and fine-tuned our Economic Blueprint, we knew that our strategy would be dead on arrival if we didn't have an immediate antidote to crime and criminality in Anambra State. We had closely studied the stimulus and response patterns of the investment community and discovered that investors are discouraged to invest in places where there is no guarantee of safety for life and property.
We knew that our goal to make Anambra State the first choice investment destination by building a socially stable and business friendly environment that would attract investors from across the world would remain a pipe-dream if we failed to lay a solid foundation in security. So, we hosted a landmark Security Summit which was facilitated by Moshe Keinen, a renowned Israeli security expert. This summit gave us a clear blueprint on security. We started implementing it immediately; setting up Operation Kpochapu, a Joint Task Force that is made up of the Police, the Army, the Navy and the National Drug Law Enforcement Agency, NDLEA.
We also erected security tents on locations that used to be flashpoints for violent crimes, donated a gunboat to the Navy to protect our waterways and launch occasional surveillance helicopter patrols into our skies. With this arrangement, we succeeded in erecting a clockwork 360 degrees security architecture that ensures the safety our beloved state in the skies, in the waters, and on the land. With that arrangement too, Anambra became Nigeria's safest state.
Leading destination for investments
"The Anambra State Investment Promotion and Protection Agency (ANSIPPA) is the institutional catalyst of Anambra's growing reputation as the leading destination for investments in Nigeria. ANSIPPA is an agency that is fully staffed with thorough and vastly experienced professionals with a collective wealth of experience that any visionary manager would envy. On the Board of ANSIPPA are first class bankers, investment analysts, lawyers and thoroughbred professionals who find immense pleasure in nursing investment dreams to reality.
This agency is charged with the mandate of attracting investments and fast-tracking the process of investing in Anambra State. I am delighted to state here that ANSIPPA has fulfilled the basic ideology that gave birth to it. In essence, if ANSIPPA had failed in its mandate and betrayed its promise, I would not be standing here today to address this great gathering."