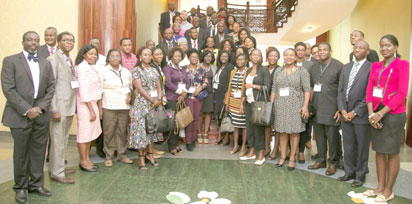 By Moses Nosike
Following its efforts in nation building and economic growth via research and capacity development, Lagos Business School's First Bank Sustainability in collaboration with SUN business network,  stakeholders in nutrition, public and private sectors together on 'Nutrition: Everyone's Business'. The  programme which targeted 'scaling up nutrition' for healthy living which empowers workforce according to experts and promotes economic growth. The convening was organized in collaboration with SBN and the Global Alliance for Improved Nutrition (GAIN).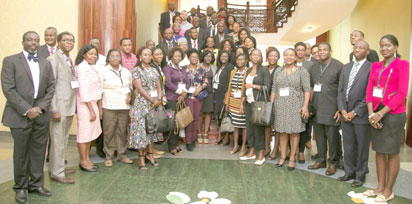 The SUN Business Network was launched by the United Nations World Food Programme and GAIN in 2012, to promote business engagement in the Scaling Up Nutrition (SUN) movement. It is a collaboration of corporate organizations and NGOs, with a defined focus to improve nutrition and address food security in their respective countries. In Nigeria, the SUN Business Network has over 45 members including AACE Foods, Coca Cola Company Nigeria, Dansa Foods Processing Limited, Flour Mills of Nigeria, Honeywell Flour Mills Plc, Nigerian Breweries, Technoserve, UAC Foods Limited and Unilever Nigeria Plc.
GAIN is an international organization that was launched at the United Nations in 2002, to address the issue of malnutrition globally. GAIN has helped 1.1 billion people in developing countries access healthier foods through its alliances with governments, businesses and civil society.
Addressing the audience at the event on 'Improving Nutrition and Growing Business: Principles that Work, Head, Department of Entrepreneurship and Strategy, Lagos Business School, Prof. Chris Ogbechie said that a convening like this is essential to building businesses in Nigeria and indeed Africa. He stated that the game of nutrition cuts across all companies. He noted that Nigeria is the most populated nation in Africa and nutrition is essential for building human capacity, even as he enumerated 5 principles for building businesses that are also essential for building nutrition businesses, which are vested interest in the well-being of consumers, marketing expertise, quality management and food safety systems, ability to innovate and scale to reach more people
Explaining further, "Ogbechie reiterated that affordability does not mean cheap, stating that it is possible to set standards even higher than what regulatory agencies set. He pointed out that reliance on government alone is not sufficient, but rather, it is possible for businesses to solve social problems and yet have economic benefits to go with it".
Speaking on quality management and food safety systems, he explained that it is very important, especially in our Nigerian climate, for companies to set quality standards and enforce those standards without waiting for checks from the regulatory bodies, stating that it was also time to actively begin considering the necessity of recalls, where necessary.
The program also served as a platform for SBN to present the 3-5 Year Strategic Plan of the SUN Business Network. In attendance was the Global Coordinator, SUN Business Network, Jonathan Tench, and the Team Lead for the Network in Nigeria, Uduak Igbeka.