By Simon Ebegbulem
BENIN—GOVERNOR Godwin Obaseki of Edo State, yesterday,  lamented that late passage of budget by the National Assembly was destructive to the economy of the nation and warned that the situation must change if the nation must get the economy back on track.
"I can tell you that it is frustrating and unfair for a state like Edo to pass its budget in December and now has to wait for another six months for the implementation of the budget due to the delay in the passage of the national budget," he said.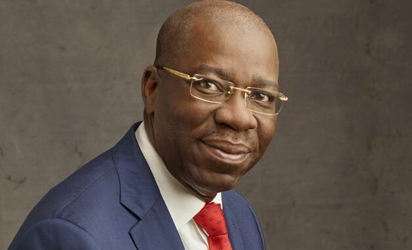 Obaseki spoke when members of the Senate Committee on Works, led by the Chairman, Senator Clifford Ordia, paid him a courtesy visit at Government House.
According to him, "When a budget is passed during the rainy season, you don't expect the contractors to do much. So we must look at these issues and ensure that we pass our budgets on time. Delay is destroying our economy since everything will be at a standstill."
Lamenting the bad state of the Benin- Auchi-Abuja Road, Obaseki stressed the need to "Earmark certain funds, dedicate resources for some key federal roads and keep the roads open. Our rails and waterways are not developed and such good road maintenance will enhance our economic growth."
On the failed section of the Benin-Lokoja highway at Ekpoma, Governor Obaseki said he once told the Federal Comptroller of Works not to return to Benin if the contractors were not mobilized to site, adding that the failed portion of that road had affected the economy of the state.
Senator Ordia informed Governor Obaseki that they were in the state to carry out on the spot assessment of the road so as to find solution to it.
Ordia who noted that the level of work on the road was slow due to paucity of funds however informed the governor that the contractor handling the Ekpoma axis of the Lokoja-Bénin highway has resumed work.