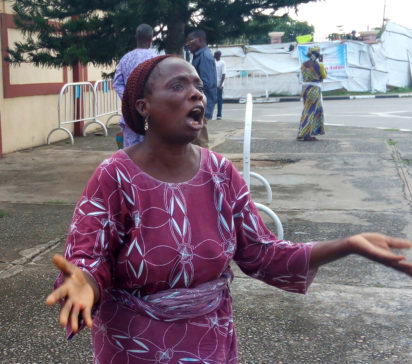 Pix: Parents of kidnapped students of the Lagos State Model College, Igbonla, Epe stormed Governor's Office to demand for the release of their children 14 days after they were abducted by gunmen. at Lagos House, Alausa, Ikeja, Yesterday. Photo: Bunmi Azeez
…Abductors demand fresh N1.5m as 'transport fare'
By Evelyn Usman
lagos—A competent  government official, who would not want his name in print, yesterday told Vanguard that another N20 million ransom has been paid for the release of the six abducted students of Lagos Model College, Igbonla Epe , bringing the total amount so far paid to N30 million. The money was reportedly paid last week at an undisclosed place, as instructed by the captors.
Thus, expectation for the release of the students were high over the weekend, as parents of the affected students as well as those who stood as middle men for the negotiation, stayed awake from midnight Friday, to the early hours of Monday , expecting a call that would instruct them on where to pick the students.
But their hope was dashed, after a call was received to the contrary. Rather, the call from the kidnappers end, was a demand for additional N1.5 million as transport fare.
Vanguard was reliably informed that the kidnappers claimed to have taken the students to a farther location that would take more than a day's journey to bring them to the pick point. They were also said to have insisted on getting the N1.5 million which they claimed would be used to fuel their means of transportation as well as to buy recharge cards .
As at yesterday, Vanguard learned that the demand of additional N1.5 million was yet to be met, a reason given for the delay of the students release.
When one of the parents was contacted, he denied  knowledge of the latest development but expressed optimism that the students would soon be released, if promises by the state government was anything to go by.
He said; "Our hope was rekindled when we heard that the students were likely to be released last weekend. We were told that some people would go and bring them, while all parents would be contacted to assemble at a particular place to receive the students. But we waited endlessly without any word . As I speak, we are still hopeful, considering the assurances of Governor Akinwunmi Ambode during the commissioning of a project at Epe last week."
Meantime, the Safe Schools and Communities Advocacy Group , SSCAG has tasked the Lagos State government and security agencies on the need to employ urgent actions towards the rescue of the six abducted students
The group which was recently launched by a combination of 19 civil society organisations and Non-Governmental Organisations, in response to the long stay of the six students in their captors' den, as well as the rising spate of criminality in Lagos state, expressed regret over the delay in the rescue operation, in spite of assurances from the Police.