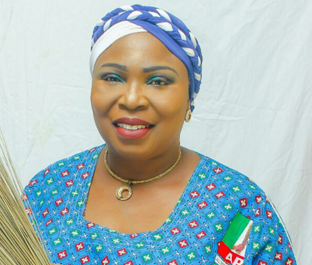 •Olajoku
By Josephine Agbonkhese
THE All Progressives Congress, APC, has been flayed for not bending towards women in its consideration of nominees for the forthcoming council election.
A two-time female vice-chairman of Ojokoro Local Council Development Area, Hon. Fausat Hassan Olajoku, made the assertion in an interview against the background of the power tussle between two heavyweights for the chairmanship ticket.
Olajoku, a former councillor between 2007 and 2009, two time vice-chairman between 2009 and 2013, and the executive secretary of the council for 18 months lamented that the selection process put women at a disadvantage.
"Our party was not like this before. Women are not given their percentage this time around despite the fact that many of us are capable, tested and trusted. Ojokoro has a zoning system but now, that system has been disrupted. My own group, known as the Mandate Group, was supposed to produce the council chairman this year while I stand as the candidate as already agreed.
"But now, the group that had served six years ago, is producing the chairman again even though they currently have a slot as Special Adviser on Commerce to the governor. Presently, people are agitating for me and I believe there is nothing God cannot do."
Yaba wing's candidate has been reviewed and changed and I strongly believe that Ojokoro's will be changed. I am not happy at all about this unfair treatment because I sincerely want to work for my people as this is a trying period for Nigeria; with so much poverty at the grassroots level. I am conversant with them and I know what they need. I have been in politics since 1987.