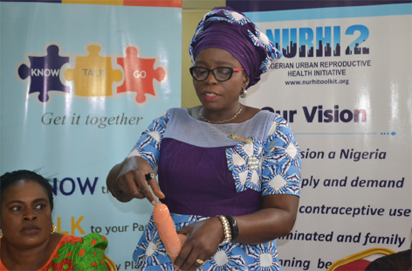 FAMILY PLANNING Director of Family Health & Nutrition, Lagos State Ministry of Health, Dr. Folashade Oludara, demonstrating proper way of wearing condom.
By Gabriel Olawale
The Lagos State Ministry of Health, LSMoH, has said that the uptake of family planning,  by 600,000 women in less than six months helped  the state in averting 46,000 unsafe abortions, 143,000 unintended pregnancies and 800 maternal deaths.
Speaking through the Director, Family Health & Nutrition, Dr. Folashade Oludara, the ministry said  such development helped  in preventing needless deaths.
Oludara who spoke at the annual media forum organised by Development Communications Network, Devcoms, said if such danger could be prevented in less than six months in 2017 alone one can actually imagine what family planning does.
"Family planning brings life to mother as a person, it also creates healthy environment for the nation, and it allows our woman to reach old age and attain their full potential because so many women's destinies are being cut short because of unwanted pregnancy and unsafe abortion.
"Family Planning is one of the major components and pillars of Safe-motherhood. It is methods that assist individuals in deciding the number of children to have and when to have them. This will ultimately improve the economy of individuals, families and the nation as a whole."
She regretted that despite the benefits it offers, the current uptake of contraceptives is still low.
"The 2013 National Demographic Survey reported contraceptive prevalence rate of 48 percent for all methods in Lagos State. For Nigeria to meet the set national CPR target, Lagos State is required to hit a target of 74 percent by 2018.
Oludara said to achieve this goal the Ministry of Health has been making giants strides to ensure that a wide range  of modern FP methods are available and accessible to the target populace.
"This includes provision of free FP commodities and services at all Public health facilities and Private facilities with trained providers, establishment of efficient system of supply and distribute FP commodities to all providers, and public enlightenment on FP.
Speaking on the topic titled, "Family Planning, Child Spacing: Empowering People, Building Nations," Oludara said that in Lagos every 100 working age adult is supporting 68 dependents.
"Where there is a high population of youth as seen in the Lagos pyramid with accompanying low uptake of FP because currently less than 10 percent of the target population is using FP, there is high tendency of unwanted pregnancies, abortions which can in-turn increase maternal and child mortalities.
"The resultant increase in population can also result in unemployment, lower life expectancy rate and this cannot be a proxy for improvements in actual economic dependency ratios," She explained.