The Minister of Information and Culture, Alhaji Lai Mohammed, will lead guests,   exhibitors and fashion designers from Nigeria and other 13 African countries to London for the 7th Africa Fashion Week.
Ronke Ademiluyi, founder, Africa Fashion Week Nigeria/London (AFWNL), told  Newsmen in Lagos that the two-day show would hold between Aug.11, 2017 and Aug.12, 2017 at Freemasons Hall in London.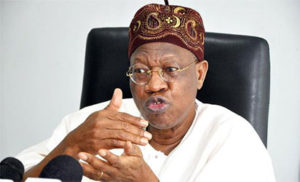 She said that the minister would be the Special Guest of Honour at the event that will be attended by the Director-General of Nigerian Tourism Development Corporation (NTDC), Mr Folorunso Coker.
She listed some of the countries where fashion designers and exhibitors would come as: Ghana, Togo, Kenya, South Africa, Congo and Tanzania.
Others are:  Mozambique, Senegal, Uganda, Cameroon, Angola, Somalia, Zimbabwe, she said.
Ademiluyi added that no less than100 talents in fashion designers from Nigeria and other African countries would display at the event.
Those expected from Nigeria would include: Step Up, Sheila Black Style, House of Bo and Joela Bags, Akpos, Stitches, Modela, Regalia by FAL, Bjelly, Mary Martin and Arewa.
She listed others as:  Mary Martin collections of art and antique artifacts of Nigeria; straddling Togo, Nigeria and Austria, Hub Couture, (an emblem of African design making headway in the European markets).
Ademiluyi added that the African designers expected include: Cici Fashions, (specialist in office or casual wears), Tima, (based in Zimbabwe), Hub Couture, Illicia, (a female designer), Richelvie Talansi, (a Congo-based designer),Simple & Sublime'.
"Also expected are:SOBOYE Samson, (menswear designer and stylist with over 20 years' experience in the creative industries.
"Iconic designer, Modela is expected to create a Queen Moremi Ajasoro's collections to showcase Nigeria's cultural pride at the event,'' she said.
According to Ademiluyi, the show is aimed at promoting African tourism and culture before the international community.
"Africa Fashion Week London, a sister event to Africa Fashion Week Nigeria, is a celebration of African design, talent and diverse ethnic fashion in the UK.
"Since debuting in 2011, this event has grown from strength to strength; championing new and emerging designers who are inspired by the rich culture of Africa and contemporary design,'' she said.
She described AFWL as Europe's largest event for African inspired fashion.
"Since its inauguration in 2014, it has showcased over 800 designers and exhibitors from Africa and from the Diaspora to over 70,000 visitors.
"It had hosted three internationally acclaimed catwalk events in Nigeria, which showcased over 200 designers from across the continent," she said.
Ademiluyi said that the two-day show would attract 10,000 guests, with 60 catwalk shows on daily exhibitions in addition to 40 exhibitors.
She said that African fashion industry was currently worth $31 billion, adding that, "we must collaborate to promote it within our country, adding that Nigerians should be proud of their culture because it is rich.
Ademiluyi noted that AFWL was a platform that had a positive impact in boosting the African fashion and creativity at international market, thereby boosting the nation's tourism industry.