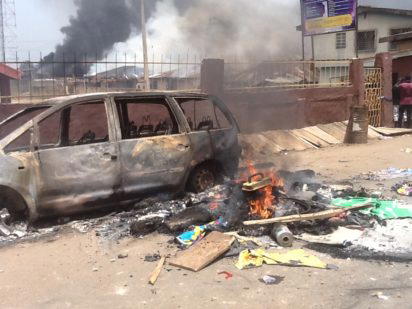 Ile-Ife clash
By Gbenga Olarinoye
Osogbo – The judicial panel of inquiry set up by Osun state governor, Mr. Rauf Aregbesola, to unravel the circumstances that led to the communal clash between Hausa and Yoruba communities at Sabo area, Ile-Ife, yesterday concluded its sittings.
The fracas that ensued between Hausa and Yoruba in Ile-Ife on March 8, led to the death of many people.
Governor Aregbesola while innaugurating the panel charged the committee members to investigate the remote causes of the crisis and recommendations within four weeks.
The panel which began its sitting on April 19, 2017, however did not receive any eyewitness account from those that testified before it.
Majority of those that submitted memoranda were those that approached the panel for compensation from the government.
While many claimed that their shops were looted during the fracas, others also claimed that their houses were burnt and appealed to government to assist them.
Speaking with journalists after the sitting yesterday, the Secretary of the panel, Mr. Bisi Babalola, said that the panel has treated 289 of the 406 memoranda it received.
Babalola who admitted that majority of those that submitted memoranda were not at the scene of the crisis, assured that the panel would address it in its recommendation.
He dispel claim that the crisis was a tribal issue, saying "security report revealed that the crisis started between a Yoruba woman and Hausa man due to misunderstanding".
"We received 406 memoranda and with the four we have taken today, we have treated 289. I can assure the public that the panel would soon make recommendations to the government in due course.
"We started sitting on April 19 and we sat for 27 days. Many of those that submitted memoranda have refused to show up before the panel despite announcements and several invitations," Babalola stated.
Earlier, the chairman of the panel, Justice Moshood Adeigbe, appreciated the people of Ife for the cooperation and support given to the panel during its sitting in the town.
He said the panel was ready to fulfil its earlier promise to give a fair and unbiased recommendation on the outcome of its findings.
However, the President, Ife Development Board, Lawrence Olajire Olawoyin, appreciated the governor for allowing the panel to sit in Ile-Ife where the crisis occurred.
He said that the governor had selected those that know how to manage crisis, adding "we found them very appropriate for the assignment".