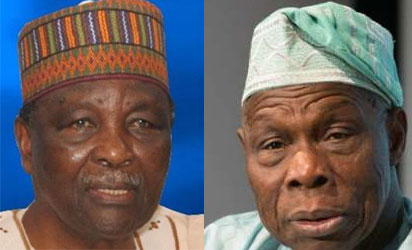 Gowon and Obasanjo
By Ola Ajayi
Ibadan—FORMER Head of State, General Yakubu Gowon (retd.); ex-President, Chief Olusegun Obasanjo, and representative of Acting President, Professor Yemi Osinbajo, were among dignitaries that graced yesterday's International Institute of Tropical Agriculture, IITA's 50th anniversary celebrations in Ibadan.
The discussions centred around food sufficiency in the continent.
Speaking with newsmen in the sideline of the celebrations, Gowon said irrespective of ranting from some sections of the country, Nigeria will not be divided, but instead the cord of unity that binds us together will be more strengthened.
Gowon, who signed the Decree 32 of 1967 that established the IITA, said: "I am not scared for the unity of the nation. I have confidence in Nigeria and the youths of this country that they will make sure that they take over and do better than we left for them.
"Diversity is our source of unity and strength."
This came just as the President of African Development Bank, Dr. Akinwumi Adesina, disclosed that the bank will be investing $20 billion in agriculture over the next 10 years to turn agriculture into a business all across the continent.
Roll call
Other dignitaries at the event were Minister of Agriculture and Rural Development, Chief Audu Ogbeh; President of Dangote group, Alhaji Aliko Dangote; Chief Executive Officer, Tony Elumelu Foundation, Chief Tony Elumelu; Bill and Melinda Gates Foundation, Abuja, Dr. Audu Grema; Director General, IITA, Dr. Nteranya Sanginga, and the Olubadan of Ibadanland, Oba Saliu Adetunji and several others.
The Acting President, represented by Chief Ogbeh, said although it may be difficult to feed several millions of peo-ple, it is not impossible.
He said: "Feeding 450 million is tough, though not impossible. If China and India did it, we too can."
To move on, we must reflect on the challenge of quantity of output and quality of consumption. And to achieve this, we urge you to engage in research, more research and even more research.
Obasanjo advocates Africa without hunger
Chief Obasanjo tasked IITA, saying "in spite of the contribution of IITA and several other research and development organisations in Africa, "the continent is yet to realise its own special Green Revolution, modelled on increased production, in an environment of sustainability, food security and overall wealth creation and employment generation.
"The food import bill of Africa has remained ridiculously high—hovering around $35 billion per annum. This, to say the least, is not only unacceptable, but also unpardonable."