Following the unconditional release of Chairman of Capital Oil and Gas, Dr. Ifeanyi Ubah, by the Department of State Services, DSS, Mr. UK Nigeria, Uchenna Ifezue, has described the business mogul as a true hero who is a source of inspiration to Nigerian youths worldwide.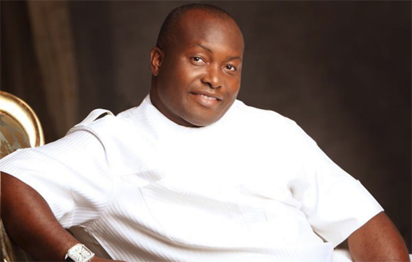 Ubah, who was incarcerated for six weeks by the DSS, was released unconditionally, even as the secret police declared that it found nothing against Ubah following the contractual agreement gone sour between his firm, Capital Oil and Gas and Nigeria National Petroleum Corporation, NNPC.
Reacting to Ubah's release, Ifezue said: "Like the popular saying "leader's are born not made", indeed Dr. Ifeanyi Ubah is a true hero whose heart of Gold is not measurable, you inspire a lot of people most especially the teeming youths.
"Dr. Ubah has passed through many phases in life, gazumping horrible moments just for the happiness and well-being of people that he loves. My first encounter with you was a remarkable day, your words of encouragement stippled in my heart. When people question your good deeds, I begin to wonder what sort of humans they are. You have proven beyond reasonable doubt that you're a true gem that can't be pushed to the wall. A hero and great icon of the igboland.
"Talking about your Good heart, words alone can't describe it. You have helped so many young talented youths with great potentials through your platform which you created and that's why God keeps blessing you.
"Without saying much I want to use this medium to say a very big welcome back to you my hero. Remember they say no guts, no glory. You went, you saw and you conquered. Never forget that you're a child of grace, you are too loaded to be emptied. Never stop the good work and I pray that God in his infinite mercies will guild and lead you through always."