…Challenging H1'17, promising H2'17
…As African nations threaten to overtake Nigeria in gas
By Udeme Akpan
With over $50 per barrel in the first quarter of 2017, some watchers of the international market were hopeful that crude oil prices would remain stable for a greater part of this year.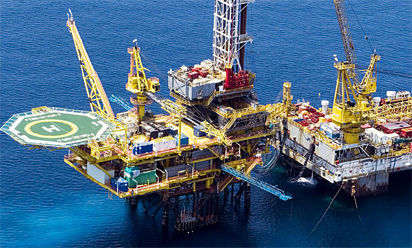 This was based on the calculations that the United States would not be in a position to flood the market with excess shale oil because of limited capacity.
The Organisation of Petroleum Exporting Countries, (OPEC), was also expected to adopt measures, including oil output cut as well as increased cooperation with non-OPEC members and oil consumer-nations, targeted at achieving market stability.
Despite the adoption of measures such as OPEC output cut and cooperation with stakeholders, crude oil prices had tumbled to sub-$50 per barrel (with OPEC basket to which Nigeria's grade belongs as at sub-$45) for a greater part of the second quarter of 2017, thus affecting the capacity of oil companies to embark on exploration and production of oil and gas.
Baker Hughes June, 2017 report, which did not indicate any significant increase in the international rig count for May 2017, stated that the rig count was 957, up marginally by just one unit from the 956 counted in April 2017, and up two units from the 955 counted in May 2016.
It added that the international offshore rig count for May 2017 was 202, up one unit from the 201 counted in April 2017, and went down a huge 27 units from the 229 counted in May 2016.
The oil market instability has, to a great extent destabilised the activities of operators in the industry.
Mr. Dolapo Oni, Head of Energy Research in Ecobank Group, Nigeria disclosed in a telephone interview that many indigenous oil and gas companies have not been in a position to invest in capital projects at this time.
"Many indigenous companies that depend on bank loans have not been able to invest much in oil and gas exploration and production. They have not been able to go into large scale investment. Some of them can still manage to sustain drilling. They cannot generally do more because of limited funding.
"But the big International Oil Companies, (IOCs) still invest because they have the capacities to do so. In fact, many of them still carry out operations in the deep offshore, which cost a lot of funds."
DNV GL Research
A new research by DNV GL, the technical advisor to the oil and gas industry, made available to Vanguard showed that oil and gas companies, have started to rebalance business portfolios and reorganising for a new era.
The report stated that, almost 80 per cent of the companies see long term opportunities for gas, as it explained that ''short-term agility, long-term resilience is DNV GL's seventh annual benchmark study on the outlook for the oil and gas industry.''
The report stated: ''It provides a snapshot of industry confidence, priorities and concerns for the year ahead, drawing on a survey of 723 senior sector players. The research reveals signs of deep, strategic changes for sustainable growth beyond cyclical patterns. 26per cent of industry leaders expect their business to invest or increase investments in renewable energy in 2017. As many as 59 per cent see investments in renewables as a shift in long-term business strategy.
"The number of companies we now see pursuing opportunities beyond oil and gas signals a step change in the reshaping of the sector and demonstrates its ability to adapt and build a more robust, diverse and sustainable energy future.
''Oil and gas professionals expect investments to continue across the value chain in 2017, though at a lower level than last year as the percentage of respondents expecting to maintain or increase CAPEX has dropped from 43per cent to 39per cent. Notably, 77per cent believe gas will become an increasingly important component of the global energy mix over the next 10 ten years.
"Despite the drawn-out recovery, investments are still being planned across the value chain. In 2017 we will see broadening of business portfolios and consolidations for growth as a way of reorganising for the future.
''A third of respondents (33%) say their organizations will be increasing M&A activity in the next 12 months (up 10%). More than three-quarters of respondents (78%) expect increased industry consolidation in 2017.   85% have cost management as a top or high priority for 2017 and a majority (63%) sees their current cost-efficiency measures as marking a permanent shift towards a leaner way of working. Organizational restructuring (37%), reducing operating expenditure (35%), and improving efficiency from existing assets (29%) are the top three priorities for cost control in 2017.
''Two-thirds (66%) say that the cost pressures are driving more industry collaboration, a positive effect of recent market challenges. Standardization efforts are also increasing as it helps remove remaining complexities. 66% of respondents say their organization will seek greater standardization of tools and processes in 2017, up from 59% last year."
The report stated that confidence in oil and gas growth for the year ahead has stabilized for now (32% compared with 30% in January 2016) – in line with the price of oil. Confidence in overall prospects for individual companies is down to 44per cent from 50per cent last year, however.
 Oil Exploration
But many investors, including Nigeria have braved the storm to invest in oil exploration and production.
For instance, three indigenous oil producing companies —Century Energy E&P, Excel E&P, Millenium Oil and Gas — are set to produce first oil in Nigeria.
According to Africa Oil and Gas Report, the companies have already completed fields' development as well as put in place facilities for production.
The report stated: "Century Energy E&P is on course of putting the Atala Marginal Field on stream; Excel E&P has now formally started to inject about 800 Barrels of crude oil per day crude oil from Eremor field into the Trans Forcados system and sources at Millennia Oil and Gas say it has 'less than' 60 days to go to complete all the remaining hook up and commissioning facilities for the startup of the Oza field.
"The licences to these fields were awarded by the Nigerian government in 2003. The Atala field is actually held by Bayelsa Oil and Gas Company (one of the three state companies which won an asset in the 2003 marginal field round). Century is only a technical and financing partner, but its economic interest is higher than 50%.
"The field development project is funded by Eunisell Solutions, a service company which will realize its investment from the proceeds of the crude output. What remains are minor permitting issues and installation of sales line metres for evacuation purposes. 2,000 BOPD from two reservoirs will be delivered into barges and ferried into an FSO for export. Offtaker is Monaco. Part of the cash flow from Atala-1 production is expected to fund the drilling of Atala-2."
Millenium's partners on Oza field, according to the report, are Hardy Oil and Emerald Resources. The field's Early Production Facility (EPF) and tie-in at SPDC's Isimiri flow station, pipe laying of 27.5km of 3" inter well flow lines and 3'' and 6" test and crude delivery pipelines from the Oza manifold to Isimiri flow station are all done. The report further stated: ''Well test on Oza-2 Short and Long strings gave results suggesting productions of as high as 1,500BOPD on Choke 22 (short-string) from the L9.0 sand and 10,000BOPD on Choke 20 (long-string) from the M2.1 sand. Production on both strings had low GOR (between 250scf/Bbl and 1,000scf/Bbl). Oza field's production is the least certain of the three."
Foreign investment
Also, the NNPC, confirmed that the French Government has set aside about one billion euros to be invested in the Nigeria Oil and Gas industry, stating that Nigeria remains her first economic trading partner in Africa.
France Ambassador to Nigeria, His Excellency, Denys Gauer, declared this when the Group General Manager, Group Public Affairs Division (GPAD) of the Nigerian National Petroleum Corporation (NNPC), Mr. Ndu Ughamadu, led a delegation to his office in Abuja.
Mr. Gauer said that French Development Agency has put in place about one billion Euros to encourage French investors to invest in the Nigeria Oil and Gas sector.
The French Ambassador commended the Federal Government for stemming the Niger Delta insecurity situation, noting that Total, a French multinational Oil and Gas Company, had significant equity investment in the Nigeria Liquefied Natural Gas Limited (NLNG) and Egina project.
He however, expressed concern that some other French companies were having challenges with Nigeria's fiscal policies in the Oil and Gas sector which he said was unclear.
But he said that some French investors were currently developing wind energy and solar energy in Katsina State.
Mr. Ughamadu, said the Corporation under the current management led by the Group Managing Director, Dr. Maikanti Baru, was well positioned and open to investment opportunities from the French Government and investors.
He noted that with the significant scale down in pipeline vandalism and insecurity which has boosted oil production, global investors such as the French Government can now invest in renewable energy, gas and power infrastructural development, pipeline construction, storage facility and the direct sales and direct purchase of Nigeria crude oil grades.
Impact
Consequently, the Corporation remains optimistic to grow the nation's crude oil reserves to 40 billion barrels by the year 2020, especially following the execution of a tripartite agreement between the NNPC/FIRST Exploration & Production Joint Venture and Schlumberger for the development of the Anyala and Madu fields in the Niger Delta, under Oil Mining Licence, OML 83 and OML 85, offshore Nigeria.
Under the agreement, Schlumberger would provide the over $700 million development cost of the Anyala and Madu fields which would generate 193 million barrels of crude oil into the current reserves of 37.2billion barrels and an additional 800 billion cubic feet of gas into the nation's proven gas reserves which currently stand at 197 Trillion Cubic feet of gas .
In terms of daily production, the fields will yield 50, 000 barrels of crude oil per day and 120 million standard cubic feet of gas per day by early 2019.
Group Managing Director of the NNPC, Dr. Maikanti Baru, said the innovative approach to funding JV operations in response to the challenging economic environment was novel and aligned wholly with the government's aspiration to increase crude oil and gas production, reserves growth and monetization of the nation's enormous gas resources.
He had also said that apart from serving as a test case for future funding mechanism, the approach adopted was in sync with the realization of the corporation's 12 Business Focus Areas (BUFA) which is to ramp up crude oil production and reserves growth, amongst others.
He noted that the projected increase in production of gas would come in handy as the Corporation strived to sustain the supply of gas to the existing power plants as well as the planned power projects billed to come on board within the period.
Managing Director and CEO, FIRST E&P, Ademola Adeyemi-Bero, had also noted that the partnership between the NNPC/FIRST E&P JV and Schlumberger would infuse a novel asset development model which combines FIRST E&P's local knowledge and market position as an indigenous operating company, with Schlumberger's financing and broad technical capabilities.
He added that the joint project team would strengthen FIRST E&P's project delivery abilities and the model would offer the upstream subsector a credible alternative funding and technical partnership model for growing production and adding reserves.
On his part, Patrick Schorn, Vice President, Schlumberger, traced the advent of the multi-national oil fields service company in Nigeria to the first commercial oil find in Oloibiri when Schlumberger played a role in Shell's drilling effort.
He noted that the partnership with NNPC and FIRST E&P would provide Schlumberger the opportunity to leverage on its reservoir knowledge, oilfield services and project management expertise to lower development costs and maximize value for the partners.
The OMLs 83& 85 are located in shallow waters 40 km offshore in the Niger Delta, NNPC holds 60% interest in the licences while, FIRST E&P, the operator of the JV, holds the remaining 40per cent interest.
Apart from providing funding for the development of the fields, Schlumberger would also provide other Oilfield Services to the JV on a limited exclusive basis.
A joint project team would be established to drive technology transfer whilst leveraging on the global technical expertise of Schlumberger and the extensive local knowledge of the JV partners.
Gas investment
However, investigations showed that not much has been done in the area of gas because of low funding and other issues.
For instance, Nigeria, which is globally known as the fourth largest producer of the Liquefied Natural Gas, (LNG) has not been able to enhance its ranking through the completion of LNG trains seven and eight.
Consequently, there are indications that some Liquefied Natural Gas plants may be completed in other parts of Africa ahead of Nigeria.
The International Gas Union (IGU) in its latest 2017 report, indicated that West Africa has emerged as an important region for the deployment of small-scale floating liquefaction.
It disclosed that while small in terms of capacity, commercial momentum achieved during the last two years indicates the ability of some projects to potentially move forward in an oversupplied market.
The report stated: "The last project to reach FID (Final Investment Decision) in sub-Saharan Africa was Cameroon FLNG (2.4 MTPA) in 2015. In Equatorial Guinea, the 2.2 MTPA Fortuna FLNG project, also based on a vessel conversion, announced significant cost reductions and advanced off-take discussions during 2016.
"Proposed in 2016, the 2-3 MTPA Greater Tortue FLNG project on the maritime border between Mauritania and Senegal has made notable progress in a short time. The project aims to rapidly commercialize a portion of 15 Tcf of gas resources.
"The developer has indicated additional FLNG vessels or potentially a larger, onshore component could be utilised to monetize potential future discoveries.  Government and project stakeholders currently appear to be aligned, with unitisation negotiations having occurred. Greater Tortue FLNG would be the first cross-border liquefaction project ever developed, and so it is possible the project could face additional complexities.''
The report added: "In Nigeria, a revised development concept was announced in 2016 for a proposed two-train expansion at NLNG. The project is now evaluating smaller 4.3 MMtpa trains instead of the 8.4 MMtpa mega trains previously planned.  The 10 MTPA Brass LNG project is undergoing a planning review by partners Nigerian National Petroleum Corporation (NNPC), TOTAL, and Eni. Russia Located in a challenging geographical region, the Yamal LNG."
The report which also recognized Nigeria as the fourth largest LNG producer and exporter in the world, placed Qatar first, followed by Australia, Malaysia, Indonesia, Algeria, Russia, Trinidad and Oman.
Others, according to the report included Brunei, United Arab Emirate, Norway, Peru, Equatorial Guinea, United States, Angola and Egypt.
NLNG ACT
Recently, the Petroleum and Natural Gas Senior Staff Association of Nigeria, (PENGASSAN) disclosed that the amendment of the Nigeria LNG Act would scuttle the construction of LNG trains seven and eight project.
Mr. Francis Johnson, President of PENGASSAN said any amendment to the NLNG Act, which is an agreement crystallised into law, should be driven by the executive arm of government who entered into the deal with the foreign investors.
He stated: "NLNG is close to our heart as a union because it is the jewel of the industry. Keep in mind that we have been advocating that the structure of NLNG, of which is one of the key enabler of the successful company, be replicated in the refineries and other parts of the industry. ''NLNG is for all Nigerians and those unborn and we need to protect it. We can't undo what we took over 30 years to set up. We will like to encourage the management of NLNG to continue its engagements with stakeholders to enlighten them about NLNG and what the company truly stands for," he added.
Before then, the management of NLNG Limited had pointed out that the amendment of the Nigeria LNG Limited (NLNG) Act (Fiscal, Guarantees, Assurances, and Incentives) by the House of Representatives on May 9, 2017 will subject the company to more than just the 3% Niger Delta Development Commission (NDDC) levy due to the removal of the Guarantees and Assurances in the Act.
Dr Kudo Eresia-Eke, General Manager, External Relations, Nigeria LNG Limited had said in a statement that: "The complete removal is a huge error and it is inimical to the growth of Nigeria and a direct collision with the Federal Government's drive to attract Foreign Direct Investment (FDI). The main thrust of the Guarantees and Assurances were to assure the foreign Investors that their investments would be protected by the non-amendment of the NLNG Act."