By Sola Ogundipe
IT was a day of smiles and joy for six couples challenged by infertility as they emerged winners of free IVF treatment cycles being offered by the Fertility Treatment Support Foundation, FTSF, initiative in collaboration with  Alibaba January 1st  Concert and the Fertility  Awareness  Advocate Initiative, FAAI.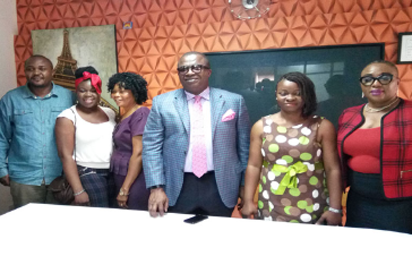 During the unveiling at the corporate headquaters of Nordica Fertility Centre, Ikoyi, Lagos,  the winning couples: Mr Okon & Mrs Vivian Eshiet; Mr. Humphrey & Mrs Precious Oghomienor, and Mr. Celestine & Mrs.  Chika Udoji were presented with their certificates.
Other winning couples were Mr. Jeffrey & Mrs Omolola Anioye; Mr.  Ebi & Mrs. Tokini Pax-Harry and Mr. Musibau & Mrs. Halima Akande.
The Founder, FTSF, Dr. Abayomi Ajayi, said the six couples were picked after a thorough screening process.
"It all started following a visit to Alibaba's office and for the first time he realised  the gravity of the situation faced by infertile couples and affordability of treatment.
"We got talking and he suggested sponsoring a few patients. That was how it started.  An agreement was struck about a partnership with FTSF – the  foundation that gives free IVF treatment. It started with an offer of three beneficiaries, then five and after a while 10, but we went on and made the number up to 15.
"We are constrained by resources and we have been able to find the 5+1 and wish them the very best."
Ajayi said the programme is essentially for couples that cannot afford to pay for IVF cycles.
"The FTSF is sponsoring three of the couples, Alibaba two and FAAI – a sister organisation, made up of people that have done IVF and are successful, is sponsoring one  couple making it six.
Ajayi said among criteria for selection is that there are no contraindications for IVF. "We are trying to look for the patients that would accept the treatment options and also have the best chances for success.
On lessons learned, Ajayi noted: "What we are beginning to see is that a lot of Nigerians are not exposed to good health facilities,  so when they first come up a lot of things are thrown at us that we probably do not see everyday and when they come up we now have to make recommendations to those concerned about what to do first.
"So now, instead of being confined to 10, we can do 15, but somebody has to pay for the screening which costs about N200,000 per person, We had to make Nordica Fertility Centre, Lagos, our technical partner,  to be responsible for the screening in order to take more people that we can work with."
One of the winners, Mrs Precious Oghomienor, described the gesture as wonderful and humane even as she urged infertile couples  to be supportive of each other and to never  give up trying to conceive.