By Progress Okpalaebulue
No fewer than 3,000 indigenes of Ika nation, Delta State, have benefited from a free medical programme organised by the Isioma Okobah Foundation, a non-governmental organisation.
The free rural health care programme, which took place at Igbodo, Ika North-East Local Government Area of Delta State, drew participants from various communities including Ekwuoma, Umunede, Owa Alero, Emuhu, Abavo and Alisimie among others.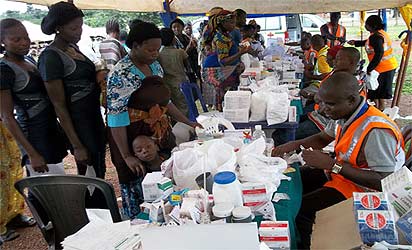 A team of medical personnel led by the resident doctor at Stephen Okoh Community Health Centre built by the foundation, Dr. Ejindu Chukwuma, pharmacists and other health care givers attended to the large turnout of people for the programme.
Addressing the participants, the founder of the foundation, Dr. Isioma Okobah, represented by Mr. Ujedibie Onyeka, said that the mid-year health outreach was specially packaged to commemorate the second year anniversary of the Okowa administration, adding that the foundation will not relent in contributing to the realization of effective, quality and affordable healthcare programme for the people.
Okobah urged the people to take routine medical checks seriously to enable them know their health status, saying that they should always adhere to their routine drugs and life style changes to improve their health.
Beneficiaries of the free medical programme, were diagnosed and treated of various ailments such as diabetes, hypertension, arthritis, rheumatism, high cholesterol, malaria and typhoid fever, waist pain and other diseases associated with old age.
The participants including elderly men and women, pregnant women, youths, children were also given free medication while the visually impaired also received medicated glasses free of charge.