By Henry Umoru
ABUJA—THE Senate, yesterday, asked the Ministry of Petroleum Resources, the Nigerian Agip Oil Company, NAOC, a subsidiary of ENI, to as a matter of urgency, discontinue revamping or planned concessioning  of the Port Harcourt Refinery to the tune of  $15 billion.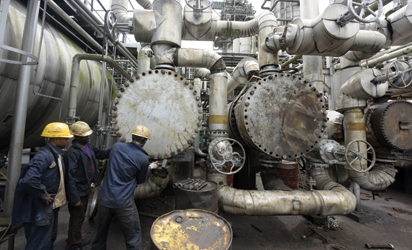 According to the Senate, the order to stop discussions became imperative against the backdrop that there was the need for an open, competitive and transparent process that should be put in place to ensure that Nigeria as a country gets the full benefits of involving private sector investors and other stakeholders.
The Senate has also condemned the non- transparent process that was seemingly being adopted by the Ministry and the Nigerian National Petroleum Corporation, NNPC, to engage the companies, to rehabilitate and improve the performance of the refinery.
These resolutions of the Senate, yesterday, followed debate on the report of the Senator Abubakar Kyari (APC, Borno Central) led Senate Ad-hoc Committee on the planned concession of the Port Harcourt Refinery.
According to the Senate, if such a decision was not taken, it would amount to the action being misconstrued as backdoor transfer of the asset to a preferred investor.
Presenting the report, Senator Kyari who noted that public invitation for bids under clearly spelt out terms and conditions must be re-advertised, said  that parties involved denied that there were plans for concession of the refinery.
Kyari who noted that there were contradictions especially from the statement  of the Minister of State, Petroleum,  Dr. Ibe Kachikwu and the Chief Executive Officer of Oando, Mr. Wale Tinubu on the planned concession, said "There have been various contradictions in the  Minister of State for Petroleum Resources public statements and media briefings on the true position of the subject matter culminating in his statement at the public hearing that there is no planned concession on the refinery, no concession has been embarked upon and none is in the pipeline.
"The statement did not correspond with the alleged earlier press briefings including one at Vienna, Austria by Kachikwu.  There was advertisement for Expression of Interest in April 2016 seeking financiers to fund, rehabilitate and jointly operate NNPC refineries, whose tender process was truncated in May 2016 following concerns raised by other relevant stakeholders.
"That competent independent technical consultant should be engaged to review the diagnostic report (under preparation) on the refinery, and recommend a suitable strategy for attracting private sector investment, taking into consideration re-appraised rehabilitation cost estimates, environmental concerns of host communities and labour issues."
"Based on international best practice, it is more likely that a credible financier will cause an independent diagnostic review to be undertaken that would be the basis for determining cost estimates for rehabilitation."
It would  be recalled that the Senate had begun probe into the alleged non-transparent transactions of the planned concessioning  of the Port Harcourt Refinery to the Nigerian Agip Oil Company, NAOC, a subsidiary of ENI, an Italian oil giant and Oando Plc to construct a $15billion refinery in the Niger Delta region by the Federal Ministry of Petroleum Resources."