ONE of the governorship aspirants in Anambra State on the platform of the APC, Mr. Barth Nwibe, has described some of his colleagues jostling for the ticket of the party as 'food is ready' politicians.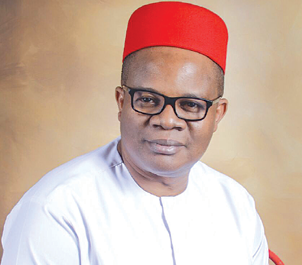 Nwibe, a foundation member of the party, from the days of Action Congress of Nigeria, ACN, wondered why some politicians cannot be patient and build their political parties, regretting a situation whereby such people run away from their parties once things were not favouring the political party. "I can tell you sincerely that most of these characters coming into APC to contest governornorship election will decamp if they fail to get the ticket of the party. I describe them as food is ready politicians who merely follow the trend of events.
"But some of us who have invested so much in APC won't leave the party, even if we do not secure the party's ticket," he said during an interaction.
Nwibe regretted a situation whereby, according to him, Igbo people boxed themselves into the opposition by refusing to vote for APC, only to be complaining thereafter.
He said: "We fail to realize that this is politics. We forgot that it was good politics that made the Igbo man the vice president, the speaker of the House of Representatives and the minister of the Federal Capital Territory during Shehu Shagari's second republic. That was good politics played by the late Dr. Nnamdi Azikiwe.
"Senator Chris Ngige was virtually begging us to align properly, but our people refused and today, they are complaining. We have to do the right thing if we want to get our due share from the federal government."