By Emma Ujah
The Federal government has released details of the second tranche of Paris Club refund to States totalling N243. 795 billion.
The refund is in respect of over-deductions on Paris Club, London Club Loans and Multilateral debts between 1995-2002.
A statement by the Federal Ministry of Finance showed that Abia received N 5 .715 b; Adamawa N 6.114 b; Akwa-Ibom N10 b; Anambra N6,121 b; Bauchi N6. 877 b; Bayelsa N10 b; Benue; N6.854 b; Borno N7.340 b
;Cross River N6. 075 b; Delta N10 b;
Ebonyi N4. 508 b; Edo N6. 091 b; Ekit N4,772,836 b.
Others are: Enugu N5. 361 b; Gombe N4. 472 b; Imo N 7 b; Jigawa N7. 107 b ; Kaduna N7. 721 b; Kano N10 b Kastina N8. 202 b Kebbi N5,977,499,491.45; Kogi N 6,027,727,595.80; Kwara N5,120,644,326.57; Lago N8,371,938,133.11
Nassarawa N4,551,049,171.1 ; Niger N7,210,793,154.95; Ogun; N5,739,374,694.4 ; Ondo N7,003,648,314.28; Osun; N6,314,106,340.62
Oyo N7,901,609,864.25; Plateau; N5,644,079,055.41; Rivers; N10 b ; Sokoto ; N6,441,128,546.76; Taraba; N5,612,014,491.52; Yobe N5,413,103,116.59
Zanfara N5,442,385,594.49; ans FCT N684,867,500.04
The ministry said "These payments which totalled N243, 795,465,195.20 were made to the 36 States and the Federal Capital Territory upon the approval of the President on May 4, 2017, in partial settlement of long-standing claims by StateGovernments relating to over-deductions from their Federation Account Allocation Committee (FAAC) allocation for external debt service arising between 1995 and 2002.
"These debt service deductions were in respect of the Paris Club, London Club and Multilateral debts of the FG and States. While Nigeria reached a final agreement for debt relief with the Paris Club in October 2005, some States had already been overcharged.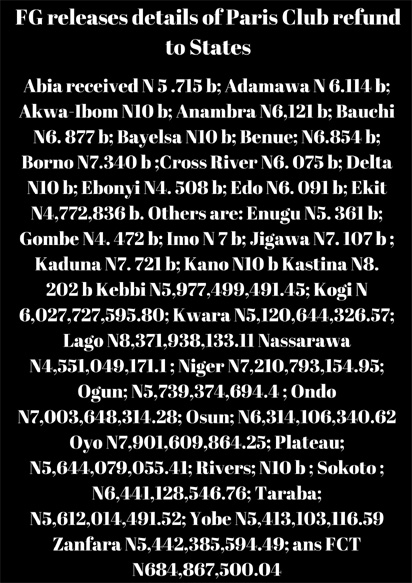 "The funds were released to State Governments as part of the wider efforts to stimulate the economy and were specifically designed to support states in meeting salary and other obligations, thereby alleviating the challenges faced by workers.
"The releases were conditional upon a minimum of 75 per cent being applied to the payment of workers' salaries and pensions for States that owe salaries and pension. The Federal Ministry of Finance is reviewing the impact of these releases on the level of arrears owed by State Governments.
"A detailed report is being compiled for presentation to the Acting President, Professor Yemi Osinbajo, as part of the process for approval for the release of any subsequent tranches."