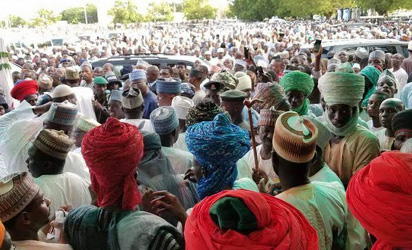 Funeral for the elder statesman, Late Ambassador Yusuf Maitama Sule (Dan Masanin Kano), in Kano yesterday
By Simon Ebegbulem
FEMALE lawmakers across the 36 State House of Assemblies under the aegis Conference of Female Parliamentarians, CONFEPA, have condemned the decision of some political leaders and Ulamas in Kano state to drop two female nominees for Local Government Area chairpersons. The two women were said to have been rejected based on religious sentiments a claim the groups said were untenable.
Addressing newsmen in Benin City yesterday, Chairperson of CONFEPA who also is the Deputy Speaker of Edo State House of Assembly, Mrs Elizabeth Ativie assisted by the Secretary, Princess Titlayo Akerele from Ekiti State House of Assembly and Hon Shola Ogbemudaibo from Delta State House of Assembly, said the decision to drop the women, Arch. Binta Fatima Yahaya and Hasiya Ismail Mukhtar negates constitutional and global charters as it amounts to discrimination against women.
They added that it was a plot to "undermine and subvert the rights of women in Kano State.
She said, "we wish to state clearly that the constitution of the Federal Republic of Nigeria which is the supreme law of our land guarantees freedom for all, including women to aspire and occupy political positions.
"The reason given by the Kano State political leaders and the Ulamas is that women in Islam do not lead. But this is not verifiable as some other Muslim dominated countries across the world have had female heads of state, Prime Ministers and Presidents.
"Examples of these countries include Pakistan with Benazir Bhutto who was Prime Minister for many years, Bangladesh, Turkey, Senegal, Mali, Northern Cyprus, who all had female Prime Ministers, while Indonesia had Magawati Sukarnopturi as President, Kosovo, Kyrgyzstan and Mauritius all have had female Presidents and these countries are Muslim dominated while in Nigeria, We have had Queen Amina of Zaria who led men to war".
While commending Governor Abdulahi Ganduje for nominating the women, she urged the Kano State House of Assembly to screen the women nominees without further delay.
She also called on the Minister of Women Affairs to intervene on the issue. "It should be told that God made them male and female and none was inferior to the other. They were created to work together and complement each other for the benefit of the World"