By Demola Akinyemi
ILORIN — Perhaps, he thought he could keep cheating, forgetting the Yoruba adage that everyday for the thief, one day for the owner. And so, an Ilorin Magistrate Court on Friday, day, sentenced one Mr Itopa Peter Adogun, who has been practising as a fake lawyer for over 10years, to a 10-month  prison term, having pleaded guilty to the charges preferred against him.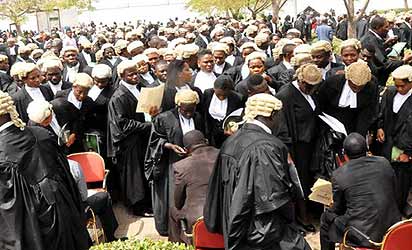 He not only practised for 10years, he also made some audacious appearances before the Supreme Court. The lead prosecutor,Mr Ayoola Idowu Akande, told the court that the suspect had been practising with the name, Barrister Inufin David Taiwo, the certificate of whom he collected on the pretext that he wanted to assist the original owner get a lucrative job in an oil company. The real owner of the certificate is said to be practising in Abuja, while the fake lawyer, Adogun, relocated to Ilorin, where he had been practising since 2007.
The real lawyer claimed to have met Mr Adogun in Abuja during his one year youth service.
The suspect, according to the prosecutor, was said to have won so many cases at the local courts and appeared so many times before the Supreme Court.
The prosecutor also said that the suspect was arrested following a petition written by the Ilorin branch of the Nigeria Bar Association, NBA, signed by the legal counsel of the association, Barrister Oyetunji Ojuokaiye.
Unknown to him – and he couldn't have known any way because he wasn't really a lawyer registered with the state chapter of the NBA – the police were already on his trail. He was consequently arrested while appearing before an area court in the Adewole area of Ilorin. Adogun was said to have been granted bail. But being criminal minded, he jumped bail.
This led to his re-arrest on January 7, 2017, while again attempting to evade arrest.  In fact, he was finally nabbed while attempting to jump off the roof top of his house.
The suspect had been in police custody since then till Friday when he was convicted.
The lead prosecutor, Akande, at the resumed hearing, presented five witnesses against the suspect, following which he displayed fear and requested the court to grant him audience with his lawyer, Barrister Abdul Gegele. After consultation with his lawyer, the suspect changed his not guilty plea, to guilty plea. The court thereafter asked the prosecutor to read the police First Information Report to him, to the extent that he is not a lawyer and had been practising as a fake lawyer for over 10years.
Magistrate Mrs I.O Olawoyin subsequently found the suspect guilty of false personation and wearing dress or carrying token used by public officers under section 179 and 133 Penal code, respectively.
She accordingly slapped him with a 10month prison term.
Subscribe for latest Videos