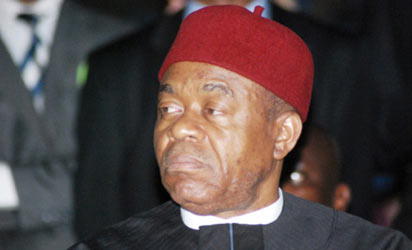 *Gov Orji
By Charles Kumolu
A FORMER Commissioner for Industry, Science and Technology in Abia State, Chief Henry Ikoh, has dismissed reports to the effect that an ex-governor of the state, Sen Theodore Orji, was pelted with sachet water and pebbles at a burial ceremony in Ntalaukwu.
He also described the reports as misleading, noting that the former governor is held in high esteem across the state.
Ikoh in a statement, yesterday, demanded apology from those responsible for the report.
His words: "My attention has been drawn to a publication on July 1, 2017 by a national newspaper, where it was alleged that sachet water and stones were thrown at Senator Theodore Orji, a distinguished Senator and a former governor of Abia State, during the burial ceremony of the late Dr.  Elekwachi  Nwaogbo at Ntalakwu, Oboro.
"The people of Ikwuano Local Government Area in particular and Abians in general see the published falsehood as an affront on their sensibilities. The misleading report flies in the face of professionalism and the practice of journalism that demands credibility, fairness and objectivity.
"And we make bold to refute that blatant lie and to urge the author of the false report and the organisation that went out to deceive the reading public to tender an unreserved apology to Senator Orji, who is unarguably the father of modern Abia State."
"Let me unequivocally state that the publication was a blatant lie and figment of the writer's imagination. It was a publication aimed to score some cheap political point. I was present at the occasion as an indigene of Oboro Clan in Ikwuano Local Government Area and as well witnessed the burial processes until the deceased was interred."