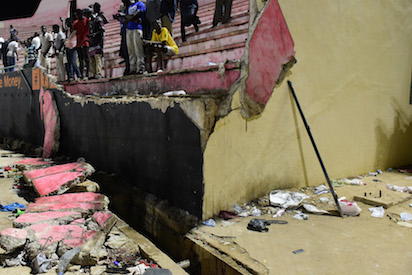 People stand before a collapsed wall at Demba Diop stadium July 15, 2017 in Dakar after a football game between local teams Ouakam and Stade de Mbour. Eight people were killed during Senegal's football league final in Dakar on Saturday in a stampede that broke out following clashes at the end of the match, the official APS news agency said. The wall collapse adding many more to be injured. / AFP PHOTO
Senegal on Sunday suspended all sports and cultural events until elections at the end of the month, a day after eight people died in a football stadium disaster
The eight people were killed during Senegal's football league cup final in Dakar on Saturday, the sports minister told AFP, as a wall collapsed onto clashing supporters triggering a panicked stampede.

Sports minister Matar Ba said a young girl was among the dead, while around 60 injured fans had been taken to health facilities in Dakar.
He vowed "strong measures so that such an event will never be repeated in Senegal," speaking to AFP by phone.
A mass deployment of firefighters and ambulances remained at the scene late Saturday.
An AFP journalist who attended the match described a stadium full to bursting with people for the long-awaited clash between local teams US Ouakam and Stade de Mbour.
At 2-1 during extra time, US Ouakam supporters began throwing stones at Stade de Mbour fans, causing spectators to begin vacating their seats in a rush, the journalist said.
Part of a wall supporting bleachers seating fans from both sides then collapsed, while police had begun firing tear gas and panic spread in the stadium leading to a crush.
"All of a sudden when the wall fell… we knew exactly that some of our own had lost their lives because the wall fell directly onto people," said Cheikh Maba Diop, a witness who helped evacuate victims from the stadium and lost a friend in the tragedy.
Also speaking at the scene, football fan Mara Die Diouf said policing at the stadium had been inadequate.
"What I find terrible is that we have this kind of final in this kind of stadium here where there isn't enough security," he said.
Diouf described police retreating from an area separating the two teams' supporters once projectiles began being thrown, triggering dangerous movements by spectators unable to defend themselves.
AFP journalists at the scene saw belongings covered in blood at the site, with a pair of glasses and clothing strewn among broken pieces of concrete.
Campaigning for Senegal's legislative elections due on July 30 would on Sunday be suspended in respect for the victims, said a spokesman for President Macky Sall.
Sall also wanted "punishments serving as a warning," following the tragedy, spokesman El Hamidou Kasse said on TFM television.
Senegal's safety record at large gatherings has been heavily criticised this year after the death of dozens of people at a religious retreat in April when a fire ripped through makeshift shelters.