Ogho-Oghene Egwero has run 10.33secs to win the men's 100m at the 2017 Warri Relays and Confederation of Africa Athletics (CAA) Grand Prix 2 on Tuesday in Ozoro, Delta.
Keene Motukisi from Niger Republic returned 10.41secs to place second, while Harry Chukwudi ran 10.47secs to clinch the third position.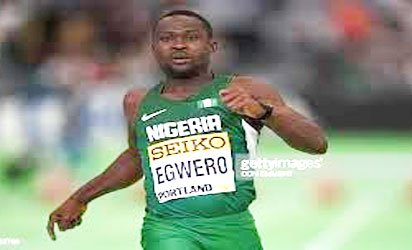 In the 100m women, Isoken Igbinosun won having run 11.49 secs, while Aniekeme Alphonsus and Ntia Mercy ran 11.51 and 11.65secs to clinch second and third positions respectively.
Martin Ogieriakhi emerged winner in the 100m hurdles for men with 13.82secs as Abejoye Oyeniyi finished second after running 14:04secs and Bashiru Abdulahi ran 14.16secs to claim third position.
In the 100m women's hurdles, Amusun Oluwatobi was first with 12.1secs, beating Grace Ayemoba who finished in 13.53secs and Efe Favour who returned 13.63secs for the third place.
Also, Yinka Ajayi came first with 51.30secs in the women's 400m and Nathaniel Samson emerged winner in the 400m for men with 46.18 seconds.
Henry Okorie finished first in the men's 400m hurdles with 52.09 seconds, beating Timothy Emogbone and Prior Chibuzor to second and third positions respectively.
In the women's Javelin, Kelechi Nwanaga won, throwing a distance of 58.15m.
Other games featured included long jump, 4 x100m relay among others.
The President of AFN, Solomon Ogba told Newsmen that the meet would inspire another generation of athletes that would do the country and Africa proud in global competitions.
Ogba commended the brilliant performances of the athletes and promised more of such trials in the state.
He appealed to corporate organisations to assist the Delta Government in the development of sports.
Egwero, winner of the men's 100m, told Newsmen that he was satisfied with the 10.33secs feat he ran.
"Individually, we have to start motivating ourselves and if there are competitions, it will boost our performances,'' he said.
Egwero, 29, and 1.52m tall had competed at the 2009 World Championships and the 2010 World Indoor Championships without reaching the final.