By Peter Okutu
ABAKALKI—A 70-year-old widow, Mrs. Maria Okoh, caught having sex with a 30-year-old man in Amauzu Nkpoghoro village in Afikpo North Local Government Area of Ebonyi State, was fined three goats after being paraded round the village to appease the land.
It was gathered that the septuagenarian was caught in the act by one of her grandchildren, who had gone to give her food in her late husband's house.
The granddaughter reportedly went straight to her grandmother's room with the food items only to meet her on the bed stack naked making love with a young man in his early 30's.
The grand-daughter reportedly raised the alarm seeing what is described as an abominable act in the community; a source added that she immediately reported the matter to the elders, who in turn alerted youths of the village.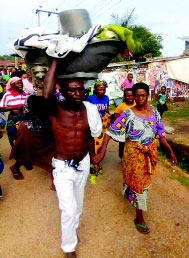 The source said the villagers immediately dragged the widow and her lover out of the house, where they were hiding, and paraded round the community, chanting disgraceful songs behind them as punishment for their atrocious act.
The source, who pleaded anonymity, added that the punishment meted out to the two lovers was the worst punishment anyone could go through in Afikpo land.
He said the woman would  have faced a greater punishment if her husband was still alive.
The source, however, revealed that the act has brought shame to the widow's family, adding that she was among the most respected women in the community before the incident.
It was gathered that according to the community's custom, the woman will give three goats as fine after being paraded round the village to appease the land.